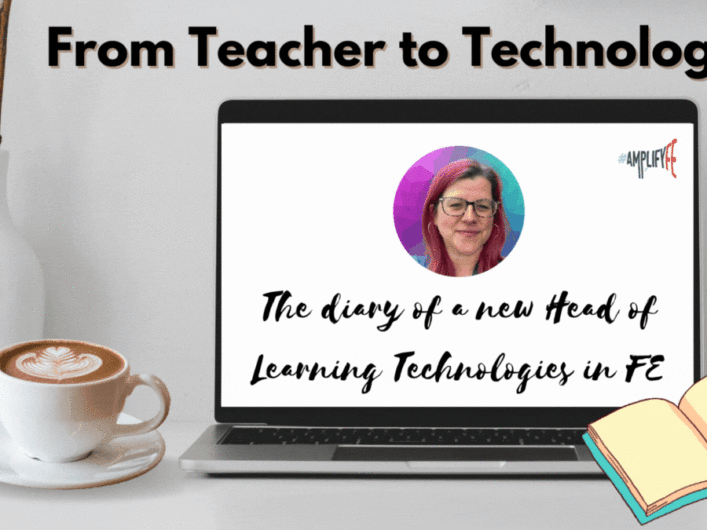 October 12, 2023 10:00 am
The diary of a new Head of Learning Technologies in FE
by Isla Flood
I've been back in college now for about a month. We're lucky enough to have had our canteen and student spaces spruced up and college is buzzing. We've hit target and classes are full and college feels lively and purposeful.
In the first couple of weeks back I spent a lot of time shadowing my team across different campuses, yes that's right I can now issue a book in the library, know what happens in the student IT induction and solve a crime in our brilliant escape room style library induction! (all credit to Nei Phillips our very creative library assistant). Our focus now is the college vision for digital elevation so last week I did my very first presentation at CMT (Central Management Team meeting?) I'm still a noob in this role and am finding my feet so felt very nervous, so much so that I totally lost the plot with the slides (not very good for the new head of learning technologies) and may have uttered a minor swear but I think I got my message across. My manager said I was funny, and funny is good right? My aims are to enable people to use technology for the greater good, 'to make the world a better place', to help people to develop their digital skills, to increase accessibility and equity and to save people time. Broad and bold, I then set out the more focused plan which will use Jisc's Digital Discovery Tool results to start a staff wide self assessment on digital skills that we then support through a varied and engaging suite of development. So yeah, that was quite big for me. I am tackling a whole college at the moment and that feels huge.
Last week also saw the team and I (but mostly the team) very busy with Freshers week. As a result I'm now writing this with a runny nose and head cold from the inevitable freshers flu! Freshers was fun. Our brilliant enrichment team put together a freshers event per campus with lots of stalls from local and internal services and most importantly free food and drink. Our team ran a BeatSaber VR competition which proved really popular, it was great to meet and engage with lots of students and spend time across sites with the team.
I met up online with Petra Hosey and Conrad Taylor, the elearning manager and technologies manager at City of Wolverhampton college and it was great to share ideas and ask questions. I basically stalked them both online and harassed them on LinkedIn as I'm really keen to get to know others in similar roles and have an informal forum where we can share good practice and help each other. Watch out learning tech managers, I'm sending out DMs daily and super keen to connect with others! Hope I'm not coming on too strong!