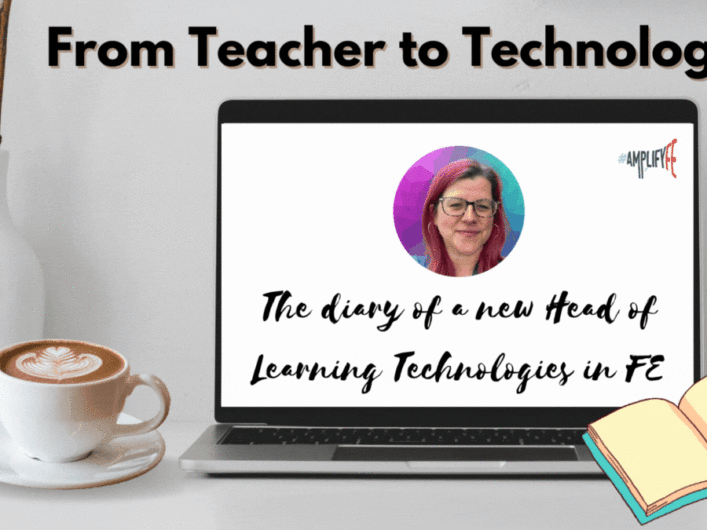 The diary of a new Head of Learning Technologies in FE
by Isla Flood
Week 1
Well not quite, let's go a little retrospective as I opted to start my new role before the holidays for a week just to get going. The first week was interesting. My manager seems really positive and I feel like I can go to him for help and share ideas with confidence. I made a point to set up individual 121s with all the team (across libraries, open access and learning tech) to try to understand their roles better and get to know them. I was nervous!! I created a list of questions that I would ask everyone and sent them ahead of our meeting to allow for thinking time and ease anxiety. The responses were fascinating and I learnt loads about the team including their goals, ambitions and how they like to work. I was cringing slightly about asking and using set questions but I wanted to know the answers and thought they'd be valuable so tried to ignore that feeling and push on.
I got the opportunity this week to go see another college, I arranged to meet up with Richard Buckley and Kate Whyles from Nottingham College. Richard heads up learning technology there and Kate is a learning technologist. I brought my colleague and learning technologist Emily Cossey for the road trip and we had a great time noseying round the Basford Campus. We got to see their facilities including their impressive immersive suite and spent lots of time listening and chatting to both about their experience developing Nottingham's digital offer. Kate's done a lot of work using Minecraft with students and suggested I do the Microsoft training on this so I completed that over the summer and am interested to see how I can apply it in my new role. I'm keen to go out and see more places so please get in touch if you'd have us, I'm really keen to see and learn as much as possible from others.
I've got my own office for the first time, which I'm a bit uncomfortable about, it is amazing and I love it (please don't take it away from me!) but imposter syndrome is out in force and part of writing this column has to be trying to quell that fear and get on with the job. So I've decorated and I'm happy but just going to miss my busy old team office chatter and banter but will be coming back for visits and staying in touch.
Anyway, enough about the material stuff. I get to start this job in a new technical age, AI is abundant and technology is never off the agenda, it's integral to the way we learn and I'm excited to be part of this new era.
It might help to tell you a little bit about me and where I came from. I've been teaching, coordinating, programme managing and coaching at Solihull College now for just over 10 years, I previously worked in London as an ESOL teacher and worked in support in FE before that. I've pretty much grown up in FE (mum and dad both had a stint at FE colleges), so institutionalised I am but proud to be in a sector that picks people up and develops them no matter what their previous experiences or background. I really do believe FE is life changing and love working in this area.
So going from curriculum to support (kind of). My strengths are my experience in and out of college, creativity and communication. I've asked to keep teaching as I believe it's integral to the role, will ensure I don't forget the coal face and always have learning at the forefront of my role. My aim is to make a bigger difference. I really love teaching ESOL because it has an impact, it's rewarding and I know I'm doing good work but now as my role changes I need it to have a wider impact in order to retain my integrity and keep the role focussed on improving learner experience.
So I'm excited, and still nervous. I start again this week after a long and wonderful break and am keen to plough out some fields of enquiry and ways of spreading the good work of the department so that it has the biggest impact it can on helping learners and staff develop. You'll be hearing from me again soon, see you later!