With increasing sales of mobile devices, comes increased interest in mobile learning. Mobile learning means different things to different people, however, and there is not yet wide-scale appreciation of the potential benefits for learning and teaching, or consistent take up of it. The JISC RSC Scotland, in association with the Scottish Blackboard User Group (Scot-BUG), thought an event focusing on mobile learning and assessment, therefore, could provide a useful vehicle for exploring some of the opportunities as well as challenges.
The Scottish Mobile Learning Day took place on the 19th June in the Teacher Building, Glasgow. It was open to anyone interested in mobile learning from further and higher education in Scotland but also served as a joint event for the Scottish Moodle User Group (SMUG), Scottish e-Assessment Forum (SEAF) (both convened by the JISC RSC Scotland) and the Scot-BUG (convened by Simon Booth from the University of Stirling). It was funded by the JISC RSC Scotland with sponsorship from Blackboard and E-Learn Design.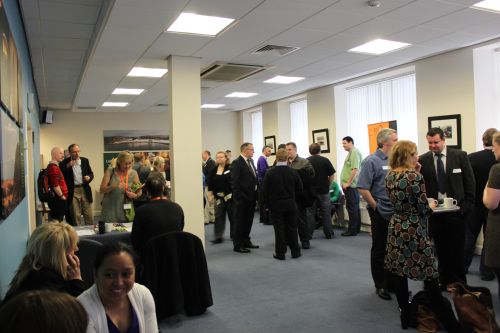 The presentations from the event were streamed, so including the 60 plus people who attended in person, just under 100 people overall participated in the event. The event had a Twitter hashtag of #rscmob and a consistent stream of questions, comments and links to resources came through on this backchannel, such as recommendations to read the JISC InfoNet Mobile Learning infoKit and the JISC TechDis Toolbox, which provides advice on tablet devices to support inclusion.
Teaching staff, support services and senior management teams were all represented at the event. They know students are using a range of technologies, and increasingly mobile devices, to engage with their studies and want ideas on how to cater for this. Staff in colleges are also considering the implications for learning and teaching as a result of the changes in college structures currently taking place in Scotland. The Scottish Government paper, 'Putting Learners at the Centre – Delivering our Ambitions for Post-16 Education' [1], published in September 2011, discusses enabling more efficient and flexible pathways for students to engage with learning. The regionalisation of college provision that is proposed in this paper and which is now being implemented across the sector, means staff in Scottish further education will probably have to work in new ways.
The event was split into two complementary parts, with the morning concentrating on mobile assessment and the afternoon focusing on learning platform apps and institutional apps. This mix offered a chance to investigate whether mobile learning could potentially help address some of the challenges associated not only with regionalisation but wider educational agendas such as increased access to learning and teaching via mobile devices, students learning across different institutions, learning at a distance, work based learning, and gaining the digital literacy skills employers are demanding.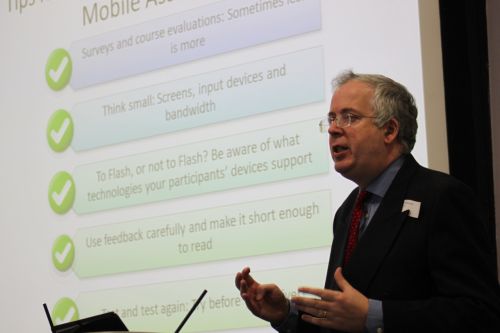 Many of the presentations highlighted statistics on the rapid increase in mobile usage and coverage. John Kleeman and Ivan Forward from Questionmark, who started the day with a presentation on developing and delivering mobile assessment, commented that over two billion people are using mobile devices for assessment worldwide. Members of the JISC RSC Scotland team used quotes from sources such as the 2011 Horizon Report, Futurelab and Professor John Traxler to highlight how mobile devices are transforming how we learn, converse and acquire knowledge. A quick poll of the audience revealed a general consensus, based on surveys in individual institutions, that around 60% of students in Scottish further and higher education have access to smartphones and therefore, the internet on their mobile device.
The first two sessions explored themes such as how mobile devices can be deployed effectively for observational and formative assessments. Examples of observational assessments showed how the portability of the devices and online access to institutional systems means data can easily be input in the field and recorded immediately in central systems. A key message to come from Questionmark, regarding designing mobile assessments in general, was that less is more. They recommended considering layout for small screens, screen 'furniture' (the elements that are on the screen), giving concise and meaningful feedback, using QR codes or short URLs, and to test and test again. Comments on Twitter included appreciation of the tips on developing mobile surveys, with someone from the University of the West of Scotland stating it had helped spark ideas for getting feedback on the careers service [2]. Advice included using QR codes for access to the survey, keeping surveys brief to increase response rate, placing the most important questions at the start, and avoiding open-ended questions.
Joan Walker and Celeste McLaughlin from the JISC RSC Scotland, investigated a wide range of tools and case studies for mobile learning, including apps for organising, mind-mapping, accessing content and context sensitive or in situ learning, via augmented reality (AR). Examples were given of how AR apps can be used to make the invisible visible, for example, such as viewing someone through the camera of a mobile device, and seeing 360 degree renderings of internal organs, behaving realistically, overlaid on them (LearnAR was used in this example). In another example (using Layar) Andrew Wilson from the University of Stirling demonstrated how AR can be used for campus tours to show, for example, how University buildings can have their names overlaid on them along with the services based within.The University of Stirling intend to develop this for their institutional app.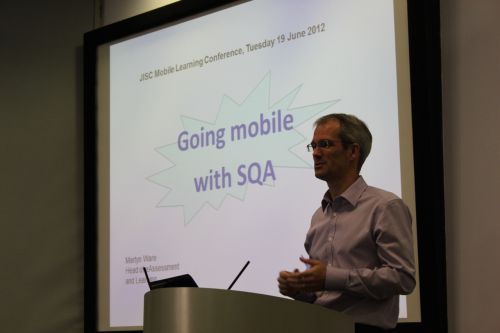 Martyn Ware, the Head of e-Assessment at the Scottish Qualifications Authority (SQA), finished the morning session with a discussion on how the SQA is supporting mobile learning. He asked the audience of staff from across further and higher education in Scotland, where the SQA should go next. Currently the SQA supports mobile upload of evidence to e-portfolios, an app for creating study timetables and the latest version of their formative and summative assessment engine will allow assessments to be taken remotely and via an iPad. However, he posed the question, "where does mobile start and end?", commenting that networks develop in ways we cannot imagine and that the SQA needs to consider where the added value of mobile lies. As one member of the audience tweeted "SQA rightly ask where does mobile have greatest impact in learning & assessment context – where should they focus effort #rscmob" [3].
While no definitive answers were arrived at during the session, there was a buzz over lunch, with participants networking and clearly continuing discussions from the morning.
The question of where to focus effort was continued in the afternoon, with Dr Deneka MacDonald and Derick Turner from the Moodle and Mahara partners, E-Learn Design asking what mobile learning means in 2012. They commented that wifi and 3G coverage in the UK is very good (making a comparison to the contrasting situation in Canada) and, therefore, that we should be capitalising on this by moving to mobile. To support this, they have worked on the official Moodle app, extending it to enhance the way students can interact with online forums, for example. They argued that forums are still one of the most powerful vehicles for participatory learning but they had not been easy to use from the app, so they have made use of alerts and other features to make engaging with the forums more mobile friendly.
Dr Lorraine Walsh and Margaret Adamson from the University of Dundee also spoke about a learning platform app, focusing on Blackboard Mobile Learn. From a survey of students, they know that only about 50% of students at the University have a smartphone, however, Margaret Adamson, commenting on the current situation they are facing said, "with distance learning, you do not have control over what devices students are using to access your materials or teaching". As a result of this they are keen to increase support for mobile learning from an institutional perspective as well as raising awareness amongst staff on how to teach for a more mobile learner. They reported that feedback indicated that in situ learning, such as dentistry staff using iPads in a clinic setting, was seen as one of the main benefits of current examples of mobile learning at Dundee. Inclusion and accessibility features of mobile devices were also key drivers for uptake.
They have been keen to interrogate use of the Blackboard Mobile Learn app and discovered that highest use is between 1am-3am. This prompted interest in the room and on Twitter, as the implications of students accessing materials and teaching most during the early hours of the morning was considered. Although students studying in the middle of the night is not a new phenomenon, the ease of access to all elements of online institutional services and teaching, perhaps does make this even easier than it has been before.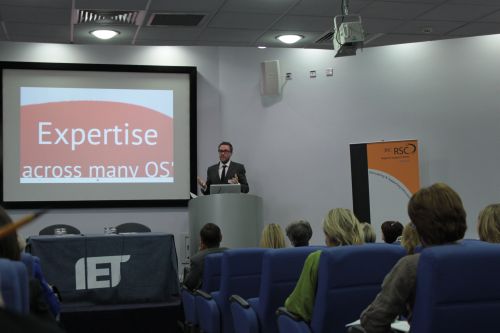 The day finished with a presentation by Andrew Wilson from the University of Stirling on the mobile app he has been developing, called m.Stir. In an engaging presentation, he laid out why he had gone down the route of developing a web app rather than separate native apps for different platforms. Comments on Twitter included people "drooling" over the amount of functionality that had been built into the app. Laughter also rippled around the room as Andrew Wilson described the challenges he had in accessing some kinds of data such as bus timetables, which are published on PDFs by the local company – the impact being that someone in the University has to manually transfer the data to a University database to pull it effectively into the app.
Based on responses to the event evaluation, those attending indicated they are keen for similar events to be held on a yearly basis as well asa follow up to this one. Questions raised during the day included how to manage authentication, integration between systems, whether desktop browser based versions for VLEs should be switched off to just go mobile, and how to develop mobile apps. Andrew Wilson agreed to share the code used to develop the University of Stirling app and there was an impromptu talk at the end of the day by Stephen Vickers, who has been working on the JISC funded ceLTIc project on Learning Tools Interoperability (LTI), in relation to integrating and exchanging data between systems. The JISC RSC Scotland will follow up the day with a webinar to re-visit some of the questions and topics raised and some case studies are likely to be generated. Given the interest in LTI, there are plans to hold a workshop on this as well as to use it as a theme for the next meetings of the SMUG and Scottish e-Assessment Forum.
A compilation of some of the tweets from the day can be found on the RSC Scotland blog.