September 7, 2012 1:05 pm
ALT, in collaboration with JISC TechDis, established a new Inclusive Learning Special Interest Group (ILSIG) in March 2011. To date the group has 55 members from a range of sectors, including HE, FE, Independent Specialist Colleges, schools and business, together with international representation from Europe and the United States.
The remit of the group is to:-
Discover and share evidence and experiential practice in the area of inclusive learning (meeting the needs of all learners);
Highlight the day-to-day experience of those using assistive technologies for the benefit of the practitioners who use or develop solutions;
Provide a forum for discussion and collaboration of the use of appropriate technologies and practices to support the development of inclusive solutions in the ALT community.
Communication is via JISC Mail and quarterly webinars. At the webinars the Steering Group reports on new developments, invited speakers present on their work and current issues, and members update the Group on items of interest from their own field.
Recent topics include:-
An introduction to learning analytics supporting disabled students learning and accessibility in elearning systems;
InBook – a safe and secure social network which can be accessed by learners from specialist colleges as well as learners with disabilities from Further Education;
CETIS report – visualising social networks for accessibility and the learning registry;
Disabled students' use of social networks;
The Use of Scoop.it! for curating inclusive learning articles – Fig 1 below is a screen shot of Shirley Evan's Scoop.it! page showing extracts from four web sites she has curated on the topic of social media and accessibility.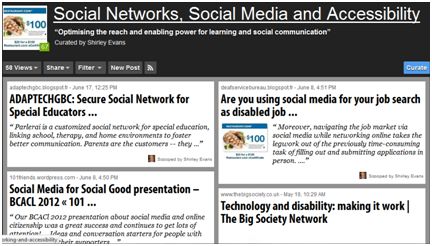 We are particularly interested in harvesting Web 2.0 based conversations around inclusive learning and we would like to surface those that are initiated by the end users – for example students, learners and employees. This will be one of our main foci for the short term future.
ILSIG members can take advantage of the JISC TechDis CMALT Scheme which allows them to register for CMALT at a greatly reduced price. There are still a number of places on the scheme available on a first come first served basis.
The ILSIG Steering Group is:-
Chair – Terry McAndrew (JISC TechDis)
Secretary – Shirley Evans (JISC TechDis)
Donal Fitzpatrick (Dublin City University)
Nick Jeans (Sero)
Ron Mitchell (mitchellmedia)
Julia Waines (Filey School)
Further information on ILSIG can be obtained from either shirley@techdis.ac.uk or terry@techdis.ac.uk.