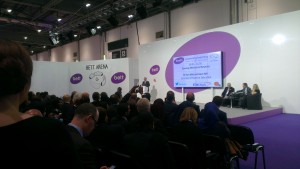 BETT, now in its 30th year, took place last week and again was a packed affair with over 680 exhibitors and visitor numbers exceeding last year. This year the show coincided with the Education World Forum and delegates were invited to the opening with Michael Gove (UK Secretary of State for Education) delivering the keynote. He, as you would imagine, talked about the use of technology in schools and how students and teaching have been shaped with the advances in technology and will continue to be shaped as we prepare our students to tackle the ever changing world of technology. He highlighted the government looking to industry and shows like BETT to understand the ways in which the educational technology landscape is changing and how the government can support these changes within schools and the education sector in general.
Of particular interest to TESS-India and other international visitors was the success of other global BETT events and the announcement that BETT South East Asia will be launched in 2015, will people as far afield as Hanoi tweeting their approval.
As with all "trade" shows there seems to be one key thing that dominates most stands, a few years ago it was 3D technology in televisions this year it was 3D technology in printers with almost 10% of exhibitors bringing some kind of 3D technology onto their stands. This is of course very impressive and the opportunities this brings to schools in integrating this technology into their curriculum is boundless but I am not sure how many more unusually shaped plastic vases and pots the BETT show needs.
There was of course the usual "big players" Microsoft, Intel, Dell, hp etc; showcasing some very impressive tech but one of the most important pieces in my opinion was to see the representation of open badging being brought into the classroom and the amazing popularity this had with students and teachers alike.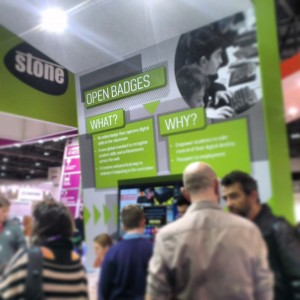 Open badging is the idea that you can gain credit for the learning you do outside of more formal structures my experience has really been in the realm of HE, further and adult education so to see the implementation of this in the classroom was very inspiring. It also brought to mind the potential importance for some students of "bridging" their learning between secondary and higher education and how recognition for this could be gained even if they don't continue to more formal credit in that particular area. It was great to see that the Openness agenda is alive and kicking in education at all levels (as perhaps some might argue it always has been).
You can find many bloggers commenting on negative aspects of any show and yes in some respects you could say there was nothing new there but then this may only be the case if you are already engaged in the ed tech space so good for you. Just having an event like this means that there are people talking and thinking about how best to use some of these technologies and for the naysayers how not to, either way the outcome for me is positive. All in all it was another great show and I always find something that is of interest personally and in respect to the advancement of technology in education but the most impressive thing that there is every year is the enthusiasm of the thousands of teachers and students that are leading the way in implementing, supporting and enhancing technologies in education.
This post was originally published on the The TESS-India Project blog and is re-posted here with the author's permission.
Tim Seal
TESS-India Technical Director, The Open University
If you enjoyed reading this article we invite you join the Association for Learning Technology (ALT) as an individual member, and to encourage your own organisation to join ALT as an organisational or sponsoring member.