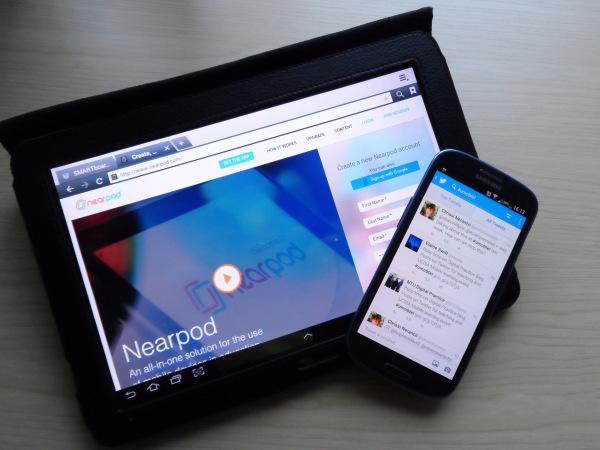 The University and Colleges Information Systems Association (UCISA) recently organised a showcase of case studies on use of mobile technologies to enhance learning, teaching and assessment. Here are Anne Hole's reflections on the event.
Does mobile learning have to mean giving students iPads?
The majority of the case studies involved using iPads, most of the audience were using Apple devices and there was some concern and discussion about whether we are, as a sector, locking ourselves into a single operating system. As the projects and activities were described, however, it became clear that they could be carried out with a variety of different devices and most of the apps involved were available across operating systems.
As each year more students arrive at university with their own mobile devices institutions are taking more of a BYOD (Bring Your Own Device) approach. It is important, therefore, that when mobile learning is planned it takes into account the range of devices that might be used to engage with the intended activities.
Modelling mobile learning
BYOD is particularly powerful in terms of users feeling comfortable with the devices they are using and the willingness that brings to explore and play. This aspect came through in Chrissi Nerantzi's presentation about her experience of being a tutor modelling mobile learning. The case study (co-authored by Juliette Wilson, Nadine Munro, Gemma Lace-Costigan and Neil Currie, University of Salford) demonstrates how, without providing costly devices, staff/students might be encouraged to engage with a range of digital tools that can help them build peer learning networks.
Learning across contexts
One of the most exciting case studies was from the University of Northampton (authors: Adel Gordon, Janet Jackson and Julie Usher) where mobile devices were used to allow students to connect up their learning across a range of learning contexts within and outside the university. Thinking about the various learning spaces that students inhabit (lecture theatre, seminar room, personal learning space, library, online/VLE and discipline-specific spaces such as laboratory, the field, drama studio etc.) we can see that mobile devices offer the possibility for the students to really make their learning mobile and context-specific.
Mobile apps for feedback
Mobile apps can be particularly useful when students are providing peer feedback – especially on posters or performances. One of the case studies (by Anita Backhouse, Ian Wilson and Daniel Mackley, York St John University) looked at how a note-making and annotating app used with Socrative had enhanced formative assessment on a teacher education module. Once students got used to taking photos of each other's work and annotating it with feedback they began giving more detailed notes, were more comfortable than with identifiable handwritten notes and were keen to progress to a system that would allow more detailed justifications for their judgments.
Trying apps
One of the nice things about being in the room together was the opportunity to try out some mobile apps for ourselves. Presenters used nearpod and Socrative to get the audience to participate in their sessions and many delegates went away thinking about ways that they might use one or the other in their teaching.
Thanks to UCISA and Julie Voce of Imperial College for organising such a successful day of sharing and discussion.
The full guide which is available online includes three more case studies involving the use of iPads in HE focusing on: collaborative learning; large numbers of medical students working out in hospitals; and undergraduate laboratory teaching. So if the examples I have picked out here don't appeal to you there may be something there to inspire you.
Anne Hole,
Learning Technologist, Technology Enhanced Learning Office,
University of Sussex 
If you enjoyed reading this article we invite you join the Association for Learning Technology (ALT) as an individual member, and to encourage your own organisation to join ALT as an organisational or sponsoring member.