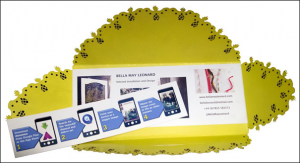 Today everyone is using social media to socialise and connect. Students can link and share their work on Facebook, Twitter and LinkedIn. In order to determine a fuller picture of potential employees, employers are using social media as an alternative to the traditional CV. The time when an employer received hundreds of typed symmetrical CVs may now be the exception. Are we now entering the age of a new type of curriculum vitae emphasising the personal brand 'You'?
Augmented Reality (AR) allows the virtual world to integrate into the real world using interactive media with the aim of engaging the viewer. Traditional passive material becomes immersive. Content can be viewed on a mobile device. The use of AR within Higher Education is currently under development. The Special Collections using Augmented Reality to Enhance Learning and Teaching (SCARLET) Project at Manchester Information & Associated Services (MIMAS) allows students to experience original materials in AR, enhancing the learning experience. The Creating Augmented Reality in Education (cARe) project at City University London has a focus on nursing in the clinical setting. Objects are surrounded with digitised content such as images, texts, online learning resources and information held elsewhere.
Creating an AR CV.
A traditional CV is stored away on a laptop, shared with an employer when you apply for a job. An employer will receive thousands from applicants. A visual CV allows an employer to view your personality and present the 'You' behind the formal achievements. Kimberley Hurd, CEO Zomato UK, states that to make a CV stand out requires evidence. A continuous online presence, interlinked to social media sites provides employers with the opportunity to view an applicant's professional skills and engagement. Whilst the AR CV can be used in all disciplines, the visual nature probably suits certain subjects more than others.
Augmented Reality has already been used at my university, for example the Money Matters postcard distributed to visitors during the 2013 Open Day gave access to financial podcasts. To develop AR further, I worked with an embroidery graduate from the School of Art. I had seen an AR CV example by David Wood, co-founder of Symbian, highlighting his skills using AR. We decided to create an AR CV, believed to be the first in Higher Education.
In this case, the aim of the CV was to represent her specialised design area, her career progression and exhibitions. Aspects of the content change as her career progresses, maintaining an up-to-date visual display. The design, layout and content were developed in collaboration with the student to create a visually stunning CV. The AR CV captured the imagination of the student. Her feedback has been extremely positive:
"Having not heard about Augmented Reality before, I was excited to see how the presentation of my practice would work with it. I jumped at the chance to use the new technology and find out how relevant it could be."
According to Curzon and Corbey (2013) the concept of 'digital influence' is growing in importance. People who can make use of online tools to demonstrate their knowledge and skills with the ability to leverage social media to gain recognition as innovators, thought-leaders and influencers, are highly employable (JISC, 2013). Further information about use of AR at MMU is available here.

Dee Vyas, MMU
Dee.Vyas@mmu.ac.uk
If you enjoyed reading this article we invite you to join the Association for Learning Technology (ALT) as an individual member, and to encourage your own organisation to join ALT as an organisational or sponsoring member