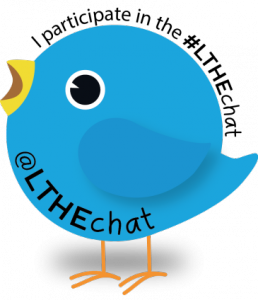 #LTHEchat was an idea by Chrissi Nerantzi and Sue Beckingham to create a space and opportunity for educators in Higher Education (HE) to discuss learning and teaching. Having been inspired by the hugely successful #edchat and used the tweetchat concept in other informal learning forums, we felt there was an opportunity to not only focus conversations on learning and teaching in HE but to involve the community in leading these. Peter Reed and Dr David Walker were invited to join the steering group, discussions continued, and we all agreed there was potential in taking these ideas forward.
Each week the tweetchat has a focus on a specific aspect of learning and teaching in HE. Examples include:
'Using music creatively to enhance non-music teaching' led by Chris Wiley @Chris_Wiley
'Digital Wellbeing' led by Helen Beetham @helenbeetham
'Revealing and celebrating learning beyond education' led by Frances Bell @francesbell
The topic of the week is usually chosen by a guest and is an area they specialise in. Usually up to six questions are shared over the hour to stimulate discussion and debate. The chat also provides an opportunity for the guest to share their work and receive feedback within a wide and open community of professionals. They in turn can answer questions from the participants taking part in the chat. The topics are communicated via the LTHEchat.com site and also via Twitter from @LTHEchat and the hashtag #LTHEchat. The posts also include information about the guests with a short bio and often links to additional resources. Some of our guests, but also participants, have been very new to Twitter and this opportunity has helped to build both confidence and an understanding of how valuable this forum can be for networking and professional development.
Even during the holidays when the LTHEchat team took a break, 'extra chats' were suggested and led by the community. Examples include:
'The Teaching Excellence Framework (TEF)' led by Professor Sally Brown @ProfSallyBrown
'Interdisciplinary Working' led by members of the community Simon Rae @simonrae, Dr Jenny Fisher @JennyCFisher and Neil Withnell @neilwithnell
Within the hour long tweetchat between 350 to 800 tweets are shared. These tweets are curated using Storify and the link is then shared via the site and Twitter. This means that anyone missing the chat can catch up with what was discussed and turn it into an opportunity to engage asynchronously with the chat. It also serves as a useful resource even for chat participants, as there are often many useful links and resources shared during the conversations which can be revisited later. Furthermore, Martin Hawskey's tagexplorer is also used to visualise the weekly exchanges and provides a valuable tool to get first insights into engagement, the connections and exchanges that emerge through the chat.
Growing an open community
So far we have collaborated with #BETTchat and #BYOD4Lchat, and organised shared chats. More recently we developed a partnership with the #HEAchat and colleagues from the Higher Education Academy (HEA). From January 2016 the last chat of the month is led by the @HEA_chat team. During this, both the #HEAchat and #LTHEchat hashtags are used. We are grateful that the HEA embraced our idea to bring together the two chats as this will enable our communities to come together and provide further opportunities for networking, as well as learning and development.
We welcome suggestions for future topics and volunteers to be guests including students. We are also looking for individuals who would like to join a future organising team in 2016/17. If this could be you, please contact Sue Beckingham @suebecks or Chrissi Nerantzi @chrissinerantzi to find out more.
And if you haven't experienced a tweetchat before, join us on Wednesday 8-9pm GMT and follow @LTHEchat and #LTHEchat on Twitter to experience a fast paced and stimulating professional development that will generate ideas you could adapt in your own practice. See you there.
We are thinking of organising a #LTHEchat meet-up in the summer 2016 and hope you will be able to join us!
Sue Beckingham @suebecks Sheffield Hallam University Chrissi Nerantzi @chrissinerantzi Manchester Metropolitan University
If you enjoyed reading this article we invite you to join the Association for Learning Technology (ALT) as an individual member, and to encourage your own organisation to join ALT as an organisational or sponsoring member