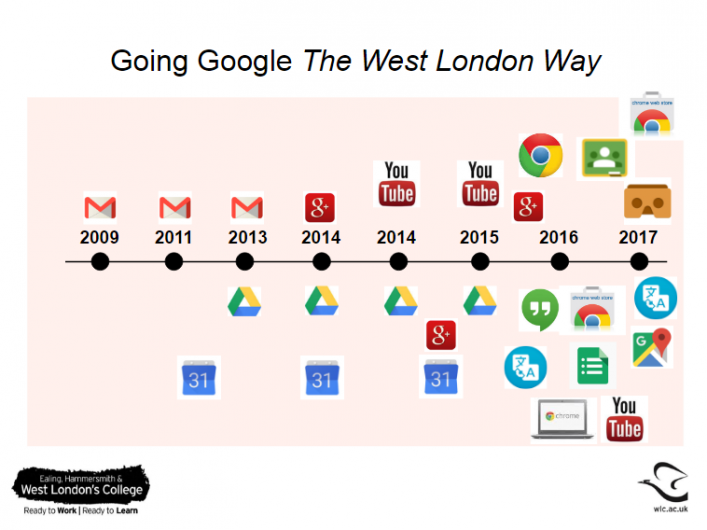 The 2017 #TESFEawards saw Ealing, Hammersmith & West London College (WLC) receive the award for 'Outstanding use of technology for improving teaching, learning and assessment'. The top prize was awarded for WLC's work with Google across their four colleges. This involved  a wide variety of activity carried out by a team of Google Innovators led by Wendy Peskett.
Wendy is the Information Learning Technology Trainer at WLC and became a Google Certified Trainer & Level 2 Educator as part of the college's move towards excellence in Technology.
WLC had been using Google since 2007 when a small number of staff experimented with Google Apps on personal Gmail accounts. In 2011, staff emails migrated to Gmail and training was provided in the use of Mail, Drive, Calendar & Docs. In 2016, with CEO Garry Phillips' support and a holistic view,  a new Google Innovator team was developed to provide peer support in the use of Google apps to improve Teaching, Learning, Assessment and business processes.
Winning this award less than a year later validates the dedication of all staff and the amazing work they have been involved in. As part of a series of DfE assessments, it has been suggested that EHWLC could exploit their current strengths by developing an Institute of Technology and be the  largest provider of degree-level and higher-level technical qualifications in West London
The in-house Google team
The introduction of Google Innovators throughout the college meant small groups of staff had peer coaching to experiment with a range of tools. Building confidence with key aspects was important at the start but staff now choose freely which areas to learn more about and experiment with. This year  sees the development of Student Google Pioneers, supported by Google Innovators to offer peer to peer support using a range of GSuite apps.
The college's Google Innovator role encourages the team to continue to learn more, using the Google Training Centre, experimentation and face to face training. Their main directive is to develop the skills of other staff along with them. As part of this they encourage self development through a well used Google + Community "Going Google the West London Way". These staff have worked towards the Level 1 Educator Award – and other teaching and support staff are now taking a great interest in gaining the awards.
Barriers to using technology
The main barriers to using technology at  EHWLC may be universal in FE; a dislike of change and lack of  time to learn new skills undermines confidence and if things don't go right first time it is very difficult to encourage many to try again. GSuite has really helped our staff to adapt to change as it is ever evolving. Each week new features are added in a way that is supported and intuitive, but rarely needs users to learn a new version. This and having Google Educators locally to give a helping hand is a main driving force to some really significant changes in the college's use of technology.
Google for Teaching and Learning
Flipped Learning: Improving teachers' awareness of GSuite tools to create resources and assess student work for flipped learning positively impacts on improved results in differentiated learning.
Google Expeditions: 400 students had the experience of a lesson delivered via Google Expeditions. With lessons based around visits to Buckingham Palace for ESOL students, a trip to Google Head office for IT students and 'inside the body' Virtual Reality experiences for science students.

Google Tour Builder and My Maps. Travel, Leisure and Tourism students were introduced to Google Tour Builder which powerfully brings together presentations, images, videos and Google Maps' street view. They plotted a trip to London Attractions and added details and accessibility issues. They also used Google Classroom, My Maps and Google Docs for a range of activities and were encouraged to demonstrate these to friends and family and seek feedback.
Underpinning Processes and impacts
Staff efficiencies: More teams are now meeting via web conferencing, improving communication and use of time. With teams now comfortable using web conferencing, staff training can move towards hangouts and screen sharing. The Going Google Community has 330 members sharing ideas and a new programme of online 10 minute CPD sessions via hangout has been devised for teams to engage with in existing meeting slots.
Improving processes and results: Having one central place to record and share Functional Skills exams, along with a College wide naming convention has made it easier to search for exams and reduced the delay of being ready for Internal Verification.  Improved collaboration on documents giving a clearer real-time picture was a main factor in improved results.
Google Classroom improved efficiency for Internal Verification as this staff member notes:
"The marking ease within classroom has been very useful specifically for standardisation, and for ensuring IV's are done/available to all within the department. It has saved around 5-10 minutes per piece of coursework in moving things around and prepping for IV." [staff feedback]

Google Chromebooks – All students studying on level 3 programmes and level 4 HE courses were gifted a Chromebook which has led to an increase in collaboration and communication between peers and teachers as well as improving the timeliness and quality of feedback to the students.  A survey and face to face discussions revealed that students are excited to try new ways of doing things. Student focus groups gave the students a chance to ask us for help and the Student Community was developed from this.
This is just a sample of the areas that the Google Innovators at WLC have been developing. If you would like to talk to any of the staff involved please join the Google the West London Way Community.
Wendy Peskett, Learning Technology Trainer. Google Certified Trainer & Educator, Ealing, Hammersmith & West London's College, @wendypeskett
If you enjoyed reading this article we invite you to join the Association for Learning Technology (ALT) as an individual member, and to encourage your own organisation to join ALT as an organisational or sponsoring member