The question in the title of this blog post was raised by the QAA commissioned research report "Digital capability and teaching excellence: an integrative review exploring what infrastructure and strategies are necessary to support effective use of technology enabled learning (TEL)" (QAA, 2016).
Issues raised in the summary report prompted my colleague Sue Pears and I to reflect on our own practices supporting the effective use of TEL. To gain guidance and ideas we attended the SEDA Spring Conference in Manchester between May 11th and May 12th this year. One of the main conference themes was the current use of metrics, such as those offered by the Teaching Excellence Framework (TEF), and how fit-for-purpose they were. While opinions varied, there was general consensus that "metrics must be augmented with peer review, case studies and high-quality education and training for teaching" (Ashwin and McLean, 2016: 84), something that was the core to our own thinking.
Throughout the conference, there was a shared concern that if more inquiry-generated knowledge was not generated, it would see development strategies emerging which reacted to the perceived needs of the metrics; strategies which could prove to be irrelevant to the needs of academics in their own institutional contexts. While most saw the benefits in taking a more 'localised' approach to knowledge generation, it was with the caveat that is did not lead to a sense of isolated parochialism. To counter any threat of this happening some colleagues stressed the importance of developing professional networks so to share experiences and knowledge.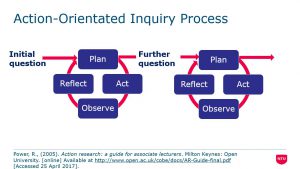 In an effort to contribute to discussions around the themes raised in the QAA report which prompted our thoughts, we facilitated a session at the conference entitled, "Promoting teaching excellence through the development of digital capabilities: can it be done?" Through our workshop, we set out to prompt participants to develop potential action-orientated inquiries, which could be used to explore the extent to which teaching excellence could be promoted by developing digital capabilities. We wanted to work with people to identify potential inquiry approaches and methods to develop practice-based knowledge which could be used to inform professional development practices. In retrospect, this was a big topic to get to grips with in a 45-minute session. However, it was clear that there was an appetite for such approaches given the level of discussion and feedback we received.
We left the conference buoyed we were on the right track with our action-orientated inquiry approach. However, we left without a clear answer to our workshop question: 'Can teaching excellence be promoted through the development of digital capabilities?' Therefore, as part of this blog post, our call to action would be to ask you whether or not this question can be answered in a way which generates practice-based knowledge to inform professional development initiatives.
References
McLean, M. and Ashwin, P.W.H., 2016. The quality of learning, teaching, and curriculum. In P Scott, J Gallacher & G Parry (eds), New languages and landscapes of higher education. Oxford University Press, pp. 84-102.
QAA, 2016 . Subscriber Research Series 2016-17: Digital Capability and Teaching Excellence. [online].Available at http://www.qaa.ac.uk/publications/information-and-guidance/publication?PubID=3115#.WBNTwS0rLcu [Accessed 19 May 2017].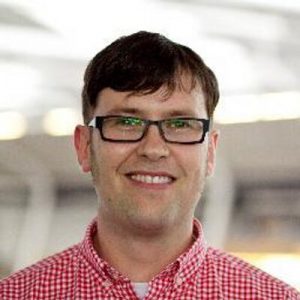 Charlie Davis, Senior Digital Practice Advisor, Organisational Development, Nottingham Trent University. Charlie.Davis@ntu.ac.uk @CharlieJJDavis.
If you enjoyed reading this article we invite you to join the Association for Learning Technology (ALT) as an individual member, and to encourage your own organisation to join ALT as an organisational or sponsoring member.