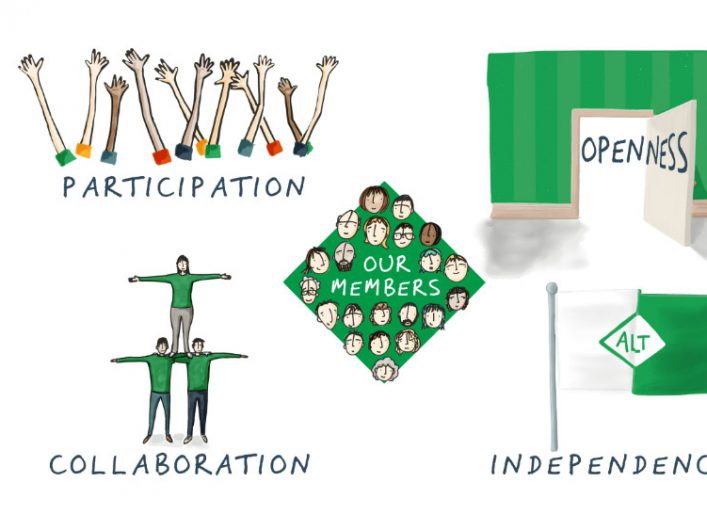 From 27 to 29 October, the Mozilla Festival or Mozfest, the world's leading festival for the open Internet movement, takes place at Ravensbourne College, London and this year we are looking forward to taking part.
Members might recall that earlier this year, Chad Sansing (@chadsansing), who works as a curriculum developer for the Mozilla Foundation and contributes to teaching and learning projects across the organisation, led an ALT webinar on Developing communities and curriculum around web literacy and internet health (access the recording and slides here). The webinar enabled Members to discover some of the work the Mozilla Foundation are doing developing curriculum for web literacy as well as privacy and security on the internet. This work Chad was focusing on is being conducted as part of Mozilla Learning, which rallies and connects leaders who want to advance the promise of the internet for learning in a networked world.
Now, in the eighth year of celebrating Mozfest, Mozilla's Executive Director, Mark Surman, describes how the event has grown: 'Since that 2010 gathering, MozFest has grown significantly. In size, yes — but more importantly, in scope. … In 2013, we focused on web literacy, inviting educators from around the world to craft tools and curricula for teaching the web. And in 2016, we talked about digital inclusion: who isn't unlocking opportunity online, why that is, and what we can do to fix it.'
If you are interested in finding out more about what's happening at Mozfest, explore the spaces and themes, read about the speakers and find out what to expect on the festival website.
With over 800 proposals being submitted (you can read more about the triumphs and tribulations of mozfest curation here), we are delighted that we are contributing some of the work of the ALT community to the programme, in a session about putting professionals at the heart of education in the internet age (read about the session on the Mozfest Github page). Lead jointly by Maren Deepwell (@marendeepwell) and Martin Hawksey (@mhawksey), and with a contribution from Bryan Mathers (@BryanMMathers), this interactive session we will be exploring how we can put people, and more specifically educators, at the heart of learning, teaching and assessment with technology. As part of this we will introduce the work of the Association for Learning Technology (ALT) to the Mozfest audience, share our strategy and talk about how our members have a space to contribute to the development of edtech. An important aspect of this is recognizing our members contributions. We will share work on our expanding accreditation scheme for participate discussion and contribution. We want to practically explore how we empower professionals who work in education to make use of the internet and technology more broadly to help meet some of the biggest challenges in education.
In addition to this session, Martin Hawksey will also be running a workshop "Machina a machina: An introduction to APIs through Google Sheets" as part of the web literacies space. An API is an interface that can be used to retrieve or interact with other applications. This workshop is designed to let participants see the usefulness and the empowerment of APIs, gaining practical skills in API wrangling. As well as the opportunities of APIs this session will hopefully also highlight privacy and security issues such as the availability of data from services like Twitter, see how much data is easily accessible from APIs will hopefully let people make more informed decisions about the type of information they share on the web.
Are you a Member of ALT taking part in or contributing to Mozfest this year?
Then we invite you to share your experience with us via the blog or by tagging posts with #altc on social media. Two years ago we had 'MozFest is our bonfire' which was contributed by J Gregory McVerry, Ph.D. Assistant Professor, Southern Connecticut State University (@jgmac1106) and we are looking for posts again this year to help share the outcomes and insights from Mozfest with the ALT community.
Authors: Maren Deepwell is the chief executive of ALT and leads its work on professional recognition and development. Martin Hawksey leads on innovation, community engagement and technology for ALT. 
If you enjoyed reading this article we invite you to join the Association for Learning Technology (ALT) as an individual member, and to encourage your own organisation to join ALT as an organisational or sponsoring member