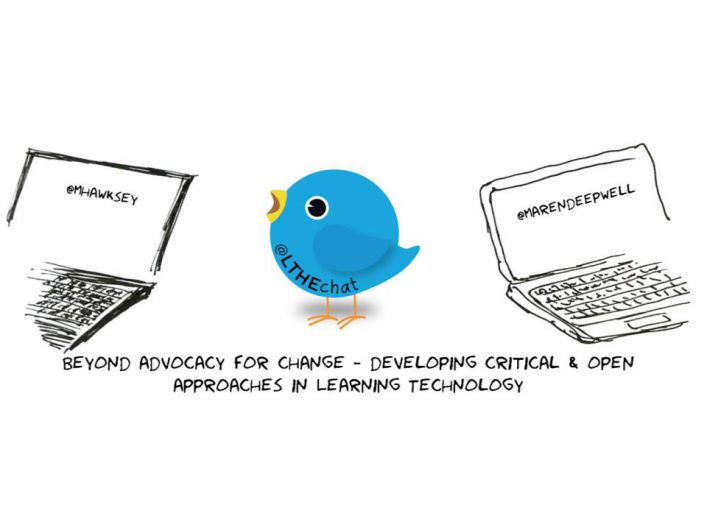 A post from Maren Deepwell, Chief Executive and Martin Hawksey, Chief Innovation, Community and Technology Officer, Association for Learning Technology (ALT).
Many of you will be familiar with the LTHEchat, 'the weekly Learning and Teaching in HE chat created by the community for the community'. Recently the chat invited us, Maren Deepwell and Martin Hawksey, to provide a topic and the questions and we happily accepted the invitation and took the chance to get talking about critical approaches to Learning Technology.
You can revisit the chat for yourself by exploring it on Wakelet, but in this post we want to share our reflections prompted by the lively conversation. A big thank you is due to all the participants who took to exploring our questions with real gusto and also the organisers of the chat, who gave us the opportunity to join in, listen and learn. Thank you!
At the outset, here is how we described the topic for the chat:
With the 25th Annual Conference of ALT, the Association for Learning Technology, just around the corner, we have been looking forward as well as back over how things have changed (revisit some of the developments with Prof Martin Weller, President of ALT, in his ongoing blog series "25 years of EdTech").

We define Learning Technology as the broad range of communication, information and related technologies that can be used to support learning, teaching and assessment. ALT's membership is made up of people who are actively involved in understanding, managing, researching, supporting or enabling learning with the use of Learning Technology. Using technology for learning, teaching and assessment hasn't been a 'new' thing for a long time. But one thing that remains constant is the pace with which innovation moves forward, learner expectations develop and our constant need to evolve our pedagogical approaches. This creates demands/pressures and staff development needs for academics to develop competencies with digital pedagogies/approaches.

Regardless of where we are, or indeed where our institution is, in spreading or scaling up use of technology, we now have research, case studies and practice to move beyond advocacy, beyond enthusiasm for shiny gadgets or dashboards to developing a more critical, nuanced relationship to Learning Technology and to share our work in order to build a stronger, more diverse and robust discourse.
And these were the six questions we provided to kick of the conversation:
What has been the biggest enabler or driver for you in your use of Learning Technology? #LTHEchat
In what ways has  Learning Technology helped create greater participation in your experience? #LTHEchat
Technology keeps moving. How can collaboration help manage continual change/moving goalposts? #LTHEchat
What changes do you think we need for a more critical perspective on Learning Technology? #LTHEchat
Can openness help to create a more critical approach to digital practice/when using Learning Technology? #LTHEchat
Share a hope for the future of Learning Technology. #LTHEchat
We didn't have a lot of experience with this kind of format other than as participants and it was our intention to stimulate a thought-provoking, critical and reflective responses to the topic we chose – something beyond the technology and the "what works, what doesn't work" frame of reference. We hoped to prompt participants to share their perspectives on where we need to go next in our thinking about Learning Technology.
Themes that came out strongly in the first part of the chat were the importance of curiosity and the learner, in particular in response to our first question, and also a desire to share more experiences of failure, in response to question 3 and 4.
A1 nice to see learners being mentioned. This was top in the last ALT Annual Survey https://t.co/sWcTbcwT68 (staff dev. opportunities was a big mover in the last survey) #LTHEchat pic.twitter.com/1nq5VVpuWg

— Martin Hawksey (@mhawksey) June 6, 2018
The learner as an enabler or driver is reflected in the ALT Annual Survey and regularly comes out on top from the choices available to respondents. Curiosity is not currently a response option and the LTHEChat was an opportunity to reflect on whether it should be an option.
With all the different pressures in universities and elsewhere it was great to read so many of the participants share their desire to experiment and to use discovering new 'shiny stuff' as a way to keep motivated and moving forward. There was a real sense of enthusiasm for exploring new technologies and pedagogies in order to support, engage or otherwise positively impact learners.
Talking about failure was a helpful counter-perspective to sharing the positives of new technologies, in particular seeing many colleagues share specific examples or their own experience. Opportunities to make connections across geographic boundaries was one area that received a lot of positive support. Technologies that enabled this were not limited to social media and other technologies such as video conferencing where also highlighted.
https://twitter.com/SusanMGreig/status/1004442082566725632
In terms of supporting new professionals in the field of learning technology there was the question of whether specific tools like social media were becoming less enticing as a way to support professional development.
@WarwickLanguage this mirrors my own experience. Do you think it has changed? Has social media become less enticing for people joining edtech? #LTHEchat https://t.co/LARf1SqDFy

— Martin Hawksey (@mhawksey) June 6, 2018
Regardless of how individuals chose to develop their professional networks finding a 'niche' to grow your knowledge and expertise was highlighted by a number of the LTHEChat participants.
https://twitter.com/suewatling/status/1004445542007693313
Our last question of the chat was to ask participants to share a hope for the future of Learning Technology. Their responses speak for themselves:
A6 Inclusive. Like, really. Not a bolt-on, not an alternative degraded experience. #LTHEchat

— Kirsten Thompson (@iamKirstenT) June 6, 2018
A6 all education is Open #LTHEchat

— Marcus Elliott (@marcuselliott) June 7, 2018
A6 Innovation & integration #LTHEchat

— Ginny Henderson (@stitchinoz) June 6, 2018
1. Greater sharing of results
2. Greater scrutiny of results
3. Greater understanding of the process followed to produce results#LTHEchat https://t.co/Y0KaMzxLIa

— Lloyd Dean (@LloydDeanUK) June 6, 2018
A6 that we need to raise the lowest level of engagement with technology/pedagogy as well as supporting those on the cutting edge – it's still 'death by powerpoint' in many lecture theatres #LTHEchat

— Katherine Haxton (@kjhaxton) June 6, 2018
A6 a symbiotic and ultimately synergic relationship with pedagogy is established which facilitates a revolution in society's objectives for our education system. #LTHEchat

— Simon Lancaster (@S_J_Lancaster) June 6, 2018
We got a lot of inspiration and ideas from the chat and it was great to connect with so many colleagues from different disciplines and backgrounds. We hope we can build on this in the coming months and in the run up to the ALT Annual Conference in September.
Many thanks #LTHEchat
Maren Deepwell, Chief Executive of the Association for Learning Technology (ALT), @marendeepwell
Martin Hawksey, Chief Innovation, Community and Technology Officer, Association for Learning Technology (ALT), @mhawksey
For ALT's 25th Annual Conference we will bring together different critical perspectives in Learning Technology from across our community that will examine the challenges ahead and question the shape of things to come. For more details, visit the conference website https://altc.alt.ac.uk/2018/
If you enjoyed reading this article we invite you to join the Association for Learning Technology (ALT) as an individual member, and to encourage your own organisation to join ALT as an organisational or sponsoring member