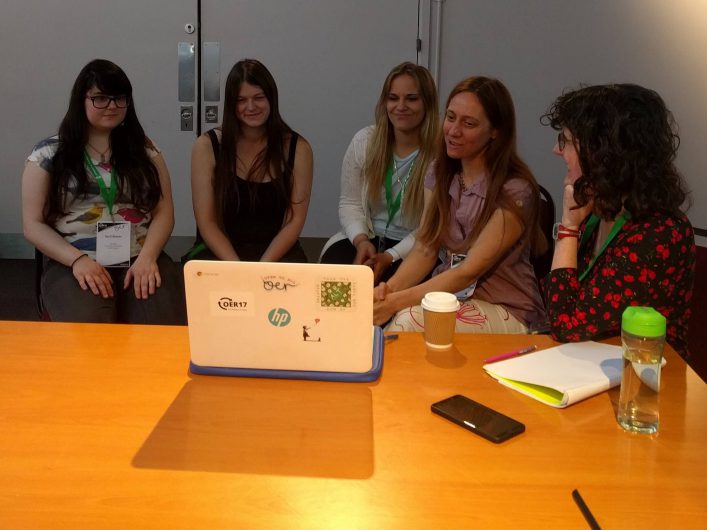 Professor Laura Ritchie (@laura_ritchie) describes herself on her blog as a "musician, teacher, learner, dreamer, open thinker". Here she recounts her experience of participating in the #OER18 conference in Bristol earlier this year with her music students after their recent teaching trip to California.
"OER18 was a conference all about open, and it presented the perfect opportunity for me and my students to deliver a workshop that challenged assumptions, roles, and boundaries.
Three of my final year students worked to design and deliver workshops across various settings this past semester. They travelled to California and worked with a dozen classes of primary school children, university students, the members of a board of governors, and their final workshop was to be back in the UK working with delegates at OER18. Educators advocate students as partners  (see for example Healey, Flint, and Harrington, 2014), and teachers tend to agree wholeheartedly. Developing a successful partnership requires commitment, a willingness to risk, and trust from all involved.
After our workshop we participated in a Virtually Connecting session.  I explained to my students that this was an online chat to enable people who were unable to attend the conference for whatever reason to take part in discussions and get a flavour of what was happening on site. Our core working values include inclusivity, facilitating engagement, and retaining openness and joining a Virtually Connecting session seemed a natural extension to the workshop.
Our workshop used musical instruments as a medium to explore community, engagement, and collaboration. I gave a brief intro about the students and the ethos behind their project of developing workshops. It is a credit-bearing class where the students are more than token partners. They are responsible for the content, its delivery, and all the logistics that go with any project, including timetables, deadlines, travel plans, equipment, fundraising, and personnel management.
We had a small group of participants in the #OER18 workshop and my co-presenters took everyone through how to play the ukulele and set them working in groups to compose a song to perform for everyone while I videoed the session. They were given tools, but also great freedoms to create. There were moments when participants fell into roles defined by old shoes. By that I mean deep-rooted insecurities or doubts when approaching a new task. Sylwia reflected:
'People are more scared of freedom than of a specified curriculum. It is more difficult, but I have learned more form that way [through freedom] than being given specific tasks. Seeing people at a conference being scared of freedom made me chuckle inside.'
Elise, April, and Sylwia facilitated, asking and showing, encouraging. There was laughter and there were songs. Everyone in the room contributed to the plenary discussion, reflecting on process and their personal experience.
Afterwards the four of us went straight into the next room for the Virtually Connecting session. The only primer I gave was that it was completely their choice if they spoke, how much they spoke, and if they wanted to appear on camera. They did choose to be on camera and to speak, lots. Sylwia spoke about teaching,
'It's a case of putting yourself forward. The more you do it, the more familiar you get with it. …It is interesting to see, no matter what age we are, we all have our comfort zones. Seeing those people today in the conference room being uncomfortable doing something new using the resources they have. It made me realise it's the same as with me. I may be 'just a student', but they may be 'just an adult with 30 years experience'. It gave me the knowledge that I'm not the only one.'
Helen DeWaard (a virtual buddy for the session) asked, 'How did you come to this? You must have been prepared, learned to work with adults?' No, there wasn't any study of the differences of teaching children vs adults. Our goal is to teach the people, whether online or face-to-face, adult or child to do the best they can, and with this in mind adapting to an audience is a skill that they have been taught, but as a fundamental instead of an add-on.
These students do not yet realise what they have accomplished. We learn to approach people without judgements limiting what they can do, and this facilitates openness and encourages them to confidently learn and pass it on. My co-presenters, Elise, April, and Sylwia integrate a real feeling of openness into everything they do, and it translates into their teaching delivery and interaction with others. There was no hesitation or awkwardness leading a workshop with experienced academics, nor was there when speaking online, live, to people on two different continents. They embraced each new task in their stride. When students are given the freedom and responsibility to be partners, we begin to break down implied boundaries about learning and roles often found in institutions with tables and rows of chairs at lectures, and move into an open practice involving connection and communication that can cross from classroom, to conference, into life."
Laura Ritchie, @laura_ritchie, University of Chichester, l.ritchie@chi.ac.uk
If you enjoyed reading this article we invite you to join the Association for Learning Technology (ALT) as an individual member, and to encourage your own organisation to join ALT as an organisational or sponsoring member