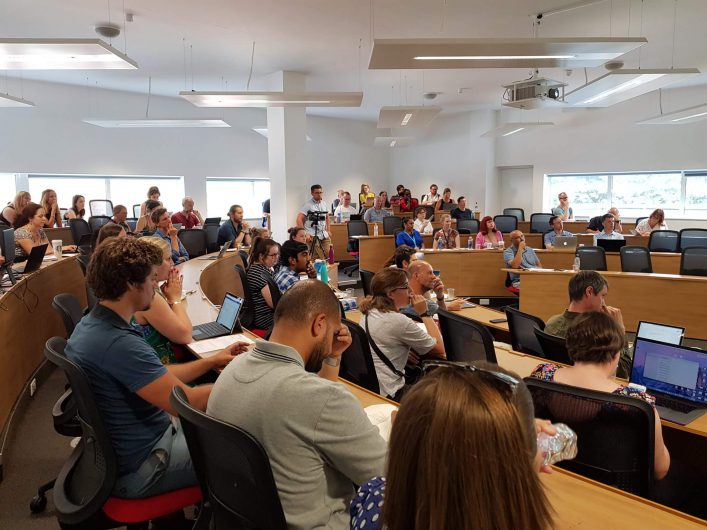 The ALT M25 Learning Technology Group (#M25LTG) meeting was held at The University of East London, hosted by the Centre for Excellence in Learning and Teaching on Wednesday 25th July and was on the topic of instructional design / learning design.
The meeting was well attended by colleagues braving the trip across London in record high temperatures. There was an inaugural live broadcast of the event from the University Square Stratford Campus via Panopto. This provided the curious learning technologist with the ideal opportunity to stay connected in the comfort of a cool air-conditioned office, which many did.
This regional broadcast gained international interest with colleagues tuning in from as far as Australia to view a topical conversation.
Interesting @chieadachi @TaylorDarci @susie_mac @TELedvisors https://t.co/czKG0TrLTv

— Marcus O'Donnell (@marcusod) July 25, 2018
Highlights of the event are available in the embedded video below and full video presentations of the event are available on the University of East London's Centre for Excellence in Learning and Teaching (CELT) YouTube channel.
The theme of the meeting 'Instructional Design and Learning Design' provided an excellent topic for discussion. Raising key issues surrounding framework approaches to the adoption of practice through learning and teaching strategies. Experiences of collaboration were shared, these included, working subject matter experts and the inevitable sharp intake of breath following a request to "Do your thing with that PowerPoint!" thrown in for good measure!
A packed agenda included presentations covering the many aspects of instructional design with presentations focusing on the role of a designer through to systematic practices covering the fundamentals of instructional design and its origins. Speakers also covered experiences and lessons learnt moving to a brand new VLE, the adoption of structured learning templates across an institution. Interesting topics covered learning models from UCL's ABC Model and a focus on constructively using reporting tools to gather accurate measurable statistics. As expected, methodologies were shared; elements of the Course design sprint framework were presented and elements of Laurillard's conversational framework discussed.
An 'Instructional Design Panel Discussion' commenced after a brief break hosted by UEL's Santanu Vasant, Senior Learning Technology Adviser. Attendees had the opportunity to ask questions directly to the panel, in addition to questions gathered via the Twitter feed #m25ltg. Questions we posted on quality matters and the panel shared experiences of approaches that work for them. Topics ranged to common challenges faced during the learning design stage with differing methodologies such as Blended Learning and Distance Learning. How educational departments should proceed with opportunities to outsource and collaborate with partners, and how much expertise is required in house. Attendees Mervyn Kennedy-MacFo and Tim Neumann continued the dialogue on the topic of outlining expected competencies of an Instructional Designer on Twitter.
#m25ltg Hello everyone here is a link to a two documents outlining expected competencies of an Instructional Designer. It's by [The International Board Of Standards For Training, PerfOrmance And Instruction] https://t.co/H37u98P7c9

— Mervyn Kennedy-MacFo (@MKennedy_MacFoy) July 25, 2018
ALT M25-LTG July 2018 Slides and Video
Part 1 Video [1hr 18 mins]
Leonard Houx – Cass Business School, City, University of London
The Secret Art (PowerPoint Slides)
In the session, I will explain what Instructional Design is, where it comes from, and how use it. I intend to include interaction/discussion, but it will be more of a presentation than a workshop.
Bryony Williams and Kerry Dixon, St George's University (No Slides)
Blank Canvas [Go directly to Bryony and Kerry's talk on YouTube]
Structuring Canvas to ensure a simple, yet enriching student learning journey. Using the approach of pre, during and post session activities being facilitated in Canvas. Lessons learnt from previous VLE and culture change within the institute.
Dr Mira Vogel, Kings College London
Before instructional design (Prezi) For instructional designers to be able to do their work on activities and sequences, there first need to be dreams, goals, learning outcomes, and assessment plans.
Part 2 Video [47 mins 39 secs]
Santanu Vasant University of East London
Instructional Design Panel Discussion A short panel discussion with 4 panelists answering questions on instructional design from the participants and via the #m25ltg hashtag, which will be used to get questions, before and during the panel discussion. The aim of the session will be for Learning Technologists to ask questions they might not get to ask otherwise on this topic
Samantha Ahern, UCL
Learning design, data and in-flight corrections? (PowerPoint Slides) [Go directly to Samantha's talk on YouTube]
The thinking behind recent workshops connecting learning analytics and learning design. How data can be used on a small scale to reflect on teaching practice and learning designs – the benefits and drawbacks of designing it into the learning design process.
Part 3 Video [33 mins 38 secs]
Dr Maria Toro-Troconis (Cambridge Education Group) and Dr Antony Aleksiev, QMUL
Cambridge Education Group's Learning Design Model (PowerPoint Slides) and the work with QMUL courses
Jennifer Bedingham, UEL
UEL's Competency Based Learning Project (PowerPoint Slides) [Go direct to Jennifer's talk on YouTube]
This presentation will provide an overview of UEL's Competency Based Learning project; its successes and struggles and lessons we've learned. The online only programme is a Level 4 CertHE in Leadership and Management and is a dual award with CMI.
In Summary
Attending the event for the first time Dr Maren Deepwell, Chief Executive of the Association for Learning Technology (ALT) enjoyed participating in a thought provoking programme.
Inspiring end to a thought provoking programme #m25ltg meeting today – really enjoyed participating today #altc https://t.co/xoqa55egdi

— Dr Maren Deepwell (@MarenDeepwell) July 25, 2018
An interesting and topical afternoon, until the next meeting, follow the conversation on #m25ltg
During the event Julie Bourguignon, Senior Online Learning Designer at Imperial College's Business School, asked delegates to fill out this survey. It's open until Friday 3rd September. Results will be shared with the M25-LTG community.
Kevin Pike, Learning Technology Adviser, University of East London k.n.pike@uel.ac.uk