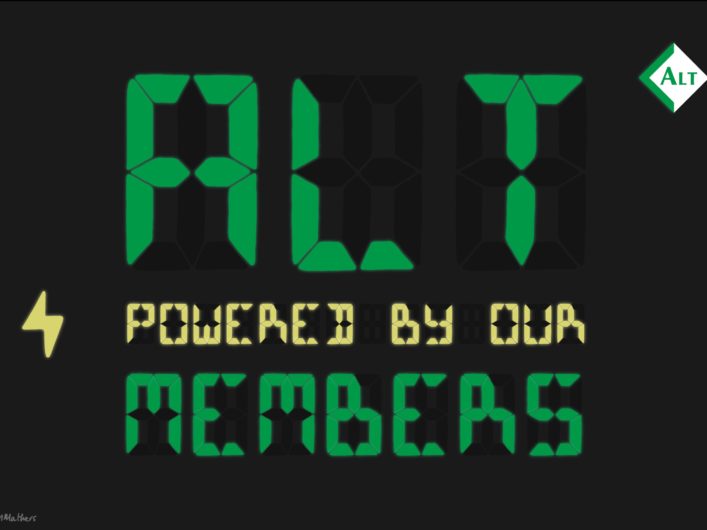 Dear Members
Now in my seventh year as chief executive of ALT, I'm writing these important updates for you, the Members of ALT, with a clear sense that the community I serve is not only growing in numbers, but also in diversity in all senses of the word.
What it means to be working in Learning Technology, what our different role descriptions and job titles mean, how they influence career progression, strategy and the way we articulate our professional practice is an ongoing and important conversation: one that many Members on the Members' mailing list, the altc blog, at Assembly meetings and on blogs, social media and at events engage with.
To me, the discussions articulate and remind me of how important it is that we continue to examine and question our relationship with technology, how it is used for learning, teaching and assessment and what impact it has in the broadest sense, from individuals, to classrooms, institutions and on a global scale. ALT's own definition of Learning Technology remains at the heart of that endeavour.
As a professional body for a diverse community of professionals, we welcome everyone who has become a Member of ALT in the past few months and also thank all who have renewed their membership this year. Thank you.
ALT's importance as the leading independent professional body for Learning Technology in the UK continues to grow as our membership expands, bringing together more insight, expertise and contrasting perspectives in our network that benefits all involved as well as the wider public.
Coming up in the next three months, here are some key dates for your diary:
ALT's Members Assembly is now firmly established and meets monthly online;
Call for Nominations for Trustees and the AGM Calling notice for this year's AGM has been published, deadline 10 June and the AGM this year is on 4 September;
Early bird registration for the 2019 Annual Conference is now open until 9 July offering a discounted rate in addition to the 20% Members save;
Senior and Associate CMALT will open for registration ahead of the Annual Conference, where we will formally launch the new accreditation pathways following a successful pilot scheme. Look out for more information via the weekly news digest in the run up to the conference.
There have been many other developments in recent months that have resulted in resources for Members and also the wider community, including a new report with a focus on gender equality in Learning Technology based on data from ALT's Annual Survey, a record 18 research articles have been published in the journal already this year, covering topics such as smart learning environments, motivating teachers in further education and learner engagement – and featuring new article level metrics of article downloads as well as a new integration with Publons.
I want to close my report by reflecting on an important strategic milestone that we reached in recent months: the establishment of the final Members Group in the East of England. This means that we now have active Members Groups in all parts of the UK and you can view the map and find out more on the Members Groups and Special Interest Groups page.
At their recent meeting the Board of Trustees warmly welcomed this important marker of achieving what our strategy set out three years ago, and took inspiration from progress overall as we look ahead to setting out the next strategy for 2020 onwards.
One thing is for certain, there are exciting times ahead for us as an Association powered by our Members and I am really looking forward to what the next months have in store for us.
If you enjoyed reading this article we invite you to join the Association for Learning Technology (ALT) as an individual member, and to encourage your own organisation to join ALT as an organisational or sponsoring member.