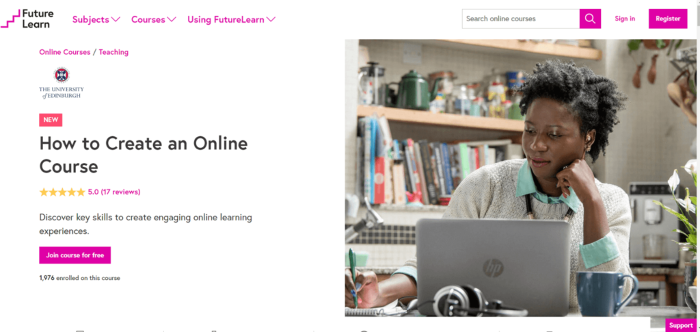 The pandemic has fundamentally altered approaches to work, teaching and study. There has been an unprecedented shift to online learning during this time, with a huge demand for online courses as learners seek alternative methods of accessing learning content, with searches for 'online courses' being higher than pre-pandemic. In some ways there are a lot of positives to take from this, with one being the rise in the development of online course content and increased, easier access to resources.
A call to action
The shift to online modes of teaching and learning has given me pause as an instructional designer. I wonder how much thought is given to quality, accessibility, and learner experience when we rush toward digital education? At the University of Edinburgh, our Online Course Production team took this as a call to action to share our expertise with those who are new to online course creation or looking to produce engaging online learning materials. More about what the team offers at the University, can be found on our Online Course Production pages.
During these past few months, my colleagues and I have developed a new 2-week course on FutureLearn, 'How to Create an Online Course'. The course explores key concepts around:
Understanding your learners
Active learning
Diversity in the curriculum
Creating engaging content
Digital tools
The course combines readings and multimedia with interactive learning to help learners gain a deeper understanding of important topics. Experts from the University of Edinburgh and FutureLearn share their experiences and top tips for creating engaging online learning.
With an increased focus on digital education, it is vital we consider how we design and teach in online spaces. Whether you are teaching online for the first time, or are an experienced learning technologist, this course offers something for everyone.
No matter the subject matter or level of difficulty, all online courses have one thing in common – they must be designed with a target audience in mind. Yes, this sounds very obvious, but is commonly overlooked in favour of content. Yes, again, content is key, otherwise you won't have an audience, but designing with solely content in mind is not enough. Designing an online course is difficult, it takes time and requires a lot of patience.
Our course aims to give learners the key skills that will help them create engaging online learning experiences.
Our course is agnostic of subject matter, platform and level of study, instead focussing on teaching educators how to create immersive and engaging learning content that puts the end user or learner at the fore. By creating this course, we are hoping that we can encourage those who are responsible for creating online courses to put themselves in the shoes of the prospective learner and ask themselves, "how would they like to learn?".
Our team has a lot of great experience to share and It's been a privilege and fulfilling opportunity to do this course and to be able to share this with learners around the globe. So join us on How to Create an Online Course as we will explore this in more detail.
Author Marcello Crolla, Information Services, University of Edinburgh, email: marcello.crolla@ed.ac.uk, Twitter https://twitter.com/uoe_online
If you enjoyed reading this article we invite you to join the Association for Learning Technology (ALT) as an individual member, and to encourage your own organisation to join ALT as an organisational or sponsoring member.