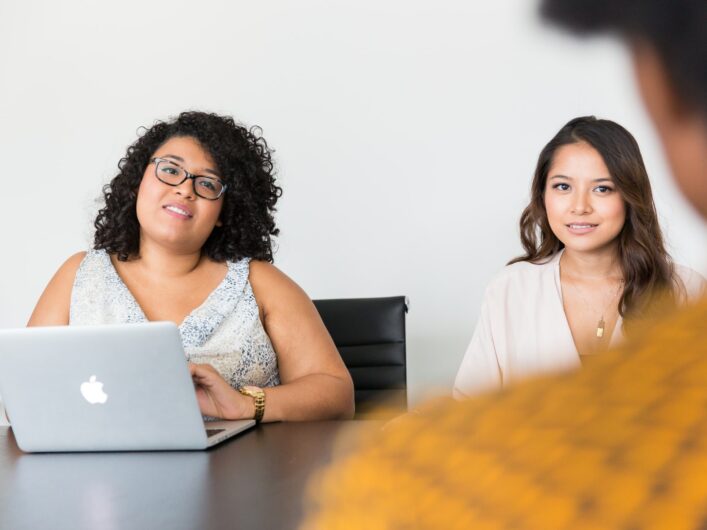 A post by Julie Voce, Head of Digital Education, and Mimi Weiss Johnson, Senior Educational Technologist, City, University of London.
In the last post of this series, we talked about how to prepare for an interview. In this fourth entry we focus on some considerations for the interview itself.
The full series of posts are:
The big day!
It's interview day and you've done your preparation , here are some tips for the interview:
Be positive and enthusiastic.
Q: How do you engage with key stakeholders on a project?
A: There's just no point, where I work, they never listen to me anyway…
You might hate where you are currently working, but don't let that show in the interview. The last thing we want to see is a disgruntled employee complaining about their current employer as it can take up a lot of time and often means you do not end up answering the question properly. Always be positive in your answers, show your enthusiasm for the role and the place you could be working.
Provide ONE really good example.
Q: Can you tell us about a time where you contributed to the development of a learning technology service?
The question asked for 'a time' not several times, so do listen carefully. Generally, we are looking for one solid example to answer each question. One common problem is that people quickly launch into a list of examples, without going into any of them in detail. To resolve this issue, you may find it useful to take a short pause after the question is asked, reflect on what was requested, and then formulate an answer. This isn't a speed dating exercise so don't rush it! If you don't like silence, then you can fill the time with a short statement, such as "that's a good question" or "give me a moment to think about that."

As recommended in the second post – Your application, structure your response using the STAR (Situation, Task, Action, Result) technique to ensure you provide a clear example detailing the situation, the tasks that you undertook, the actions that you followed and the result of your actions. Using this technique takes the panel on a journey through the lifecycle of your example and should cover the areas the panel are looking for.
Finally, whilst you may have prepared responses or examples, do make sure they are tailored to the question being asked. For example, you might anticipate a question on teamwork, but if the panel asks you about a team that didn't work well together, don't recite a pre-prepared response about a team that DID work well.
Be prepared for the follow-up.
There are three main types of follow-up questions that are designed to probe further into the response you have given.
Planned follow up – This is prepared in advance by the panel and will be asked of all candidates. For example, you might be asked to describe a situation and then the follow-up might ask what you would do differently next time. Alternatively, you might be asked to describe the challenges of deploying a particular technology with a follow-up asking how you would overcome those challenges. You may find these example follow-up questions useful in your preparation:

How did you evaluate the effectiveness of the course/project/activity?
How did you contribute to the success of the course/project/activity?
What would you do differently next time?

Spur of the moment – These are less easy to prepare for as they often come from a panel member taking an interest in something you have said. Just be honest, clear and concise with your answer.
Prompt – Keep an eye out for these, as it means you haven't given the response the panel were looking for or not provided enough information. It's usually, but not always, asked by the person who asked the original question, and to help you they might rephrase the question or highlight an area you haven't yet covered. For example, you might have been asked about the practical and legal considerations for lecture recordings, but you have only provided practical considerations so far. The prompt will ask you for legal considerations. Our next section provides tips for making sure you have covered everything.
Have I answered the question?
There is nothing wrong with taking a note of the question you have been asked or asking for it to be repeated. Often interviewers give you a multi-part question, so writing it down or asking them to repeat the question makes it easier to ensure you cover what they have asked. At the end of your response, you could always ask the panel to repeat the question again to make sure you have covered everything. Or ask the panel if they feel you have covered everything. Noting down the questions can also be useful for your own post-interview reflection or used to help you prepare for future interviews.
Avoid the Royal 'we'.
"When we implemented Blackboard, we ran training sessions with academics."
Unless you are the Queen, avoid the use of 'we'. We don't want to hear about your colleague's role, we want to hear about yours. After all, we are hoping to hire you! As with your personal statement, use 'I' to talk about what you did and when you have worked with colleagues, demonstrate how you contributed, e.g. what was your role? How did you divide up the work? Did you lead on anything? Reflect on what you did well or what you learned from the experience.
I have notes and I'm not afraid to use them.
You've done all the preparation, so don't feel shy about using your notes in the interview. It shows that you have prepared and provides you with a useful reminder of your examples. One advantage of online interviews is that you have access to your notes electronically, but do not feel scared to bring a device with you to an in-person interview. If you take this approach, it is advisable to tell the panel that you have notes and will be referring to them. Put your notes into short bullet points so you use them as an aide-memoire rather than a script.

With some examples, you might also find it useful to bring along a visual to demonstrate what you are talking about. We would love to see a handout you have developed or a new reporting template, but bear in mind the most we will have is a quick glance at what you are showing us.
Use plain English.
"IPR, opt-in vs opt-out and moral rights."
Don't assume that we know what you are talking about. You may find that someone on the panel is not a Learning Technologist, for example, we usually include someone from outside of the team, such as an academic, a librarian or someone from IT. They are not necessarily going to have an in-depth knowledge of what a Learning Technologist does, so make sure you describe your work in enough detail for everyone to understand. For example, if we ask you to describe some of the issues with lecture capture, explain what each of these means and why they are an issue. Also, make sure you expand acronyms and abbreviations and use generic names for things like your virtual learning environment or teaching and learning unit, where they don't have a commonly recognised name.
The perils of the internal candidate.
"And you know what happened with the migration project!"
In our experience, internal candidates often make the fatal mistake of not giving us enough information, as they assume we already know about it. We probably do know what happened with the migration project, however in an interview, we must treat internal candidates the same as external ones, so explain everything as if you don't know us. If you don't tell us in the interview, then we can't score you on it, even if we know you can do it.
Don't talk too much, or too little.
Q: How do you keep up to date with what's going on in the sector?
A: Twitter!
It's great that you use Twitter, but could you tell us what it is about Twitter that is useful? Most questions are inviting you to provide detail, so one word or just a list of things isn't going to be enough. Excluding any presentation, we usually have around 40 minutes to get through about 8-10 questions. Interviews are often held on the same day with only a small gap between them. Try to be succinct in your answers, but don't be too brief, hence the Twitter example which was not sufficient. Not saying enough is often just as bad as saying too much.
Don't be alarmed by rigorous note taking from the panel.
The interview will follow the same protocol as the shortlisting. Recruiters have an interview record form where they have the questions listed attached to the criteria from the person specification. You may see recruiters typing or writing quickly so that they can add notes about your answer and provide you with a score. Do not be alarmed by this as it is a standard procedure. The interview record form provides a mechanism to assess all candidates against the same criteria fairly and help to remove bias. After the interview, these are used to provide candidates with feedback before being sent to Human Resources for safekeeping.
Finally, remember to breathe!
Bring some water with you and try to relax. We understand you will be nervous, some of the panel may be nervous too! You are not alone in wanting the interview to go well. The recruitment process takes a lot of time and effort, so we also want things to go well. Our questions are designed to make sure that we have explored everything we need in order to make a decision as to whether you are the right candidate for our role. We aren't trying to trip you up or ask you trick questions, we are just interested in exploring your skills and experience.
What's next?
Hopefully, the interview went well and you are eagerly awaiting a phone call from the panel. Remember, the interview is your opportunity to demonstrate why we should employ you, so make the most of the time you have and by following these steps you will have maximised your chances of showing the panel that you are suitable for the role.
In the final blog post, we will provide some advice for what to do after the interview, things you might want to consider if you are offered the job and some tips for starting your new role.
With thanks to our City Digital Education colleagues Taqveem Ahmed, Kathryn Drumm and Olivia Fox for their advice and feedback.
Photo by Christina @ wocintechchat.com on Unsplash
This post, and all posts in the series, have been written by Dr Julie Voce, Head of Digital Education, and Mimi Weiss Johnson, Senior Educational Technologist, City, University of London.
If you enjoyed reading this article we invite you to join the Association for Learning Technology (ALT) as an individual member, and to encourage your own organisation to join ALT as an organisational or sponsoring member.