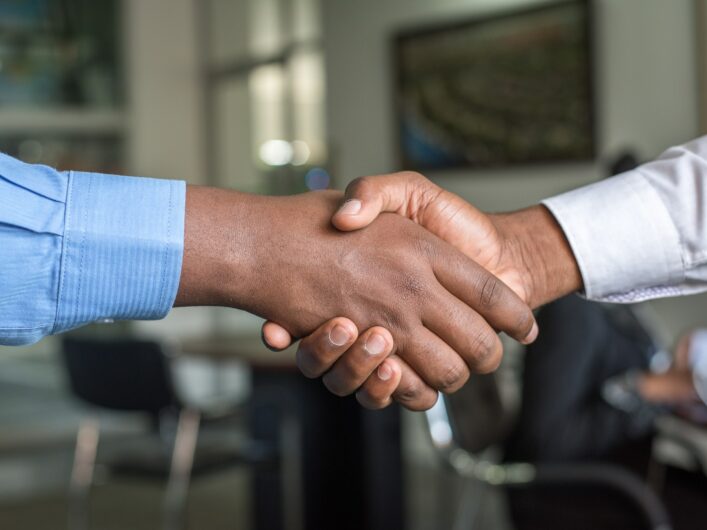 A post by Julie Voce, Head of Digital Education, and Mimi Weiss Johnson, Senior Educational Technologist, City, University of London.
In the fourth post of this series, we provided some advice for the day of the interview. In this final entry to the series, we finish with some general tips for after the interview, responding to a job offer and starting your new role.
The full series of posts are:
After the interview
So that's it! Hopefully, you have been successful in your application and interview. After the interview, here are some things you might want to consider:
Say thank you!
In the USA, it is standard to send a thank you note after the interview. Whilst not common in the UK, it is a really nice way to follow up the interview and remind the interviewers why you would be perfect for the role. It also opens the door for asking for feedback and can be done easily via email. Even if you don't get the job, it leaves the panel with a good impression of you.
The importance of feedback
Obtaining feedback is a way of finding out what you did well and what can be improved in the future. Don't forget this important step as it could be the deal-breaker for future opportunities, for example, the candidate who received feedback that she didn't come across as enthusiastic or passionate for the role and then transformed herself for a second application and got the job. You can ask for feedback at the following stages:
Application: Recruitment panels do not always give feedback at the application stage, especially when there are large numbers of applicants, but sometimes they do, and it could make a difference. It has been known that when the panel have had another look at the application, they have realised they made a terrible mistake. One of our authors almost did not make it into the learning technology world, but having not heard back about the shortlisting outcomes, asked for feedback and managed to secure an interview and the job.
Interview: At the interview stage, feedback is usually provided, due to the smaller number of applicants, and can be extremely valuable. Panels should let you know where you did well and where you could have improved. If you didn't note down the questions in the interview, then you might want to ask the recruitment panel for a copy of the questions. It can be useful to reflect on the interview questions and the responses you gave and, if necessary, identify areas for improvement for a future interview. We recommend compiling a bank of questions to help with interview preparation, especially as part of mock interviews.
Appointment: Even if you have been successful there may be areas you could improve on for when you start the role. One of the authors was asked to provide an explanation of accessibility guidelines at an interview. She admitted that she hadn't looked at them recently, so she could not answer in full. When the author was offered the job, she asked for feedback and her knowledge of accessibility was highlighted as an area to improve upon, as it was important for the role. Interestingly, the recruiter did say that the panel appreciated her honesty, rather than bluffing her way through the answer.
What's next in the recruitment process?
Whilst the majority of roles are based on one interview, for some roles, especially managerial ones, there may be further steps in the recruitment process. Sometimes this is an agreed part of the process and candidates are usually advised of this before application. For example, a Learning Technology Manager position where, following the interview, the top two candidates were invited back to present to two senior managers who weren't on the original panel. In other cases, the panel may want to probe further into an individual candidate's suitability for the role. For example, the panel may be keen to offer you the role but want an informal chat just to clarify some areas you maybe weren't as strong on or just to verify that you are definitely the right person for the role.
The job offer
Congratulations! You've spoken with the panel chair and they would like to recommend you for the post. Here are some of the things you should consider:
Take a moment!
If you are offered the job you don't need to give a response right away. You can ask for a little time to consider the offer. Your decision is quite a big one, which could affect your life significantly, so make sure to weigh up all of the pros and cons. Just be sure to ask the panel chair when they need your answer, as they may have other candidates waiting in reserve.
Is this the role for you?
In Part 1 – Prepare to apply, we asked you to consider whether this is the right role for you. This is another chance for you to double-check that this definitely is the role for you. Think again about the commute, working hours, terms and conditions, salary and duties. Are you still happy with them?
Do you have any questions?
This is another opportunity to ask questions that might have arisen since the interview. You might also want to ask to see copies of various HR policies or ask about flexible working. This is a good time to discuss potential working patterns, especially if you want to work part-time or flexibly.
When can you start?
If you have accepted the role, then you'll be asked to provide a tentative start date so the panel can get things moving with HR. Check what your notice period is for your current role (some university roles can require up to three months' notice), whether you are able to negotiate an earlier leaving date and whether you want a short break between jobs.
Let your referees know
You should also let your referees know that you have accepted the role so they know to expect a reference request. You could send them a copy of the job description so they can start thinking about what to write.
Sign the contract
Before you officially resign from your current position, make sure all the official checks (e.g. references and occupational health) are complete and you have signed the contract for your new role.
Before you start
And finally, some tips for starting your new role:
Visit the office
If you will be working on-site, then arrange a visit to the office so you can try out the commute and find the place in advance of your first day. You could also use this as an opportunity to meet some of your new colleagues in advance and maybe go for lunch or a cuppa with them. Bear in mind this might not always be possible, especially if the current postholder is still employed, as they might not feel comfortable with this.
Who's who
A great way to get to know who's in the team in advance of starting is to look at an organisation chart for your new department. This may be on the department website or something you can ask your new line manager for. You can familiarise yourself with the different teams within your department and get a feel for names and if photos are included, faces too! Some teams also have biographies available on their department website.
Practicalities
Here are some things you might want to ask in advance of starting:
For the first day: Who's my point of contact? Where should I meet them? What time do I need to arrive?
Travel: Where can I park my car/bike? Where's the nearest station/tube? Best walking/cycling route?
Is there anything I need to bring? Not just the official documents, but practical things like, do I need to bring my own mug?
Is tea/coffee/milk provided? Or is there a café nearby?
Where can I store my lunch/bag/coat?
Where do people usually go for lunch?
Is there a dress code?
What equipment do I need? You'll likely be provided with the standard equipment, but if you need anything specific like an alternative keyboard or a footstool, then flag this up with your new manager so they can get things in advance of your start.
Be prepared
If you have time and are keen to start getting prepared for your new role, you could ask whether there is any pre-reading or preparation you could do. For example, if your new institution uses different technologies, then you might want to have a look at the guidance documentation for those tools. Or if you will be working on a particular project, maybe there are some project documents you can read. There might also be a handover document from the previous postholder.
Find out what your first week will be like
Ask your new line manager if they can send you a schedule for the first week so you have a feel for what you will be doing. It's likely to include setting up your IT account, getting a security card, mandatory induction training and meeting new people. Hopefully, it will include a nice lunch or two!
We hope this series on how to get hired as a learning technologist has been useful and provides you with a useful checklist for future applications. We have enjoyed putting this together, so do let us know if we have helped you to get your next learning technology role. Good luck!
With thanks to our colleagues Taqveem Ahmed, Kathryn Drumm and Olivia Fox for their advice and feedback.
Photo by Cytonn Photography on Unsplash
This post, and all posts in the series, have been written by Dr Julie Voce, Head of Digital Education, and Mimi Weiss Johnson, Senior Educational Technologist, City, University of London.
If you enjoyed reading this article we invite you to join the Association for Learning Technology (ALT) as an individual member, and to encourage your own organisation to join ALT as an organisational or sponsoring member.