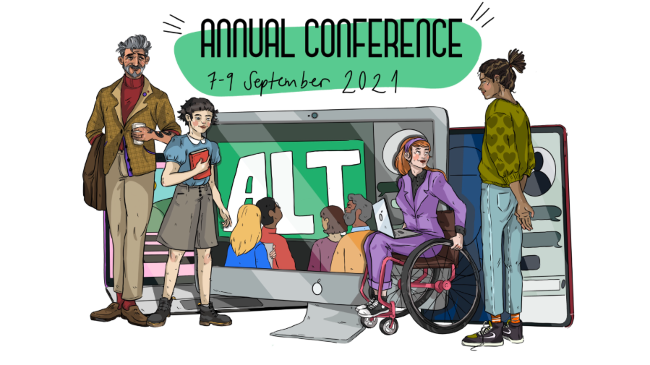 Moira Sarsfield, Imperial College London
So, you've signed up to attend ALT-C 2021 and I'm looking forward to an interesting and useful exploration of the latest learning technology ideas and lessons learned from lock down. But how can you make the most of the ALT-C experience?
I believe preparation is key, and that this starts with a close examination of the conference programme. It's great to see the details of the very relevant keynote speakers and debates that have been arranged by the conference co-chairs. I'm especially excited to hear Mutale Nkonde speak, but each of you will have your own interests and will draw your own insights from these plenary sessions. I find it really useful to schedule time during the conference to think about how what I've just heard relates to my own context. For me this usually means setting aside time for walking, which allows space for ideas to circulate in my brain. But you may prefer to arrange meetings with other conference attendees or with work colleagues to discuss and reflect. The important thing is to explicitly schedule time and space for these important activities. And don't spend every break in the timetable trying to keep up with work emails!
Now, moving on the enticing array of pre conference workshops, parallel sessions, presentations and posters, as described in the full programme. How can you decide which of the sessions to attend? Which will be of most value to you? Here I suggest an approach that relies on transfer of knowledge to new domains. Specifically I recommend using the MoSCoW method of prioritisation to bring some structure to pre conference planning. (Many of you may be familiar with from software development projects.) The idea in the conference context is to categorise each activity as 'Must attend', 'Should attend', 'Could attend' or 'Won't attend'. I usually do this once the abstracts for each session are available – this year these will be part of the interactive conference programme, which will be shared in our joining instructions – but you can make a start now if you prefer. The categories can be noted using a variety of methods – from online highlighting to hard-copy scribbles. The key thing is to take time to consider the appropriate category for each session and then to record the outcome.  This helps you to plan the sessions you'll attend in advance and keeps your time during the conference free to focus on the content, not the logistics. It's a great boon when a presentation is cancelled or rescheduled – you can just pick the next in line from your personalised, prioritised programme. And it's also helpful for pre conference planning with colleagues, so you can make sure you don't all attend the same session and miss out on something else of interest. 
Finally, remember to explore the fabulous social programme, with opportunities for networking, relaxing, competing and dancing! These are always key elements of the ALT conference and are just as important, if not more so, during these socially distanced times. So, book these aspects in your calendar too and make sure to enjoy the full conference experience!
PS – Of course, if you're presenting at the conference, you'll have some additional preparation to complete. The ALT team has provided detailed guidance for presenters, which looks super useful. I'm certainly keen to take advantage of a Speaker Orientation Session, to practise using Streamyard and Discord.
Many thanks to the co-chairs, members of the conference committee and the team at ALT and for all their pre conference work. I'm sure it's going to be a great, green success.