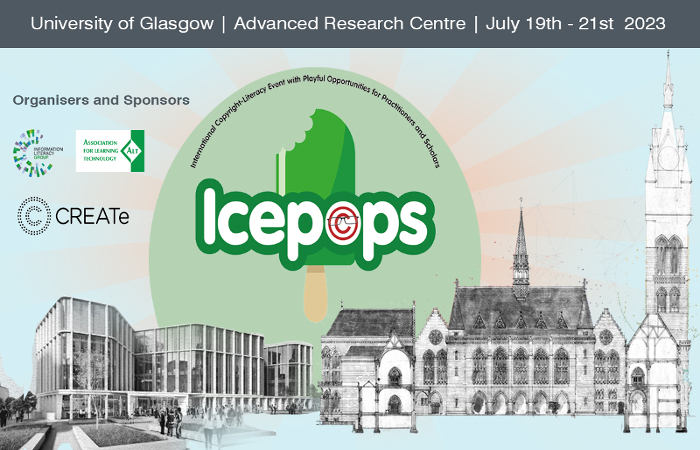 By ALT CoOLSIG
We're delighted to announce that the draft programme for Icepops 2023 is now available. We have an exciting line up of events taking place from 19th-21st July at the Advanced Research Centre at the University of Glasgow. We are delighted to be running the event in conjunction with CREATe.
Our keynote speakers were announced a few months ago and we are delighted to be joined by Dr Amy Thomas from the University of Glasgow and Prof Nicola Whitton from University of Durham. However we also now have an exciting line up of lightning talks and world cafe speakers on our programme.
On 19th July we will be running a pre-conference workshop on e-lending and e-books led by Dr Kenny Barr and Dr Matteo Frigeri, CREATe, University of Glasgow who will be reporting on their project "The law and economics of e-lending in Europe". We will also be joined by Kyle K Courtney, Harvard University who will speak about Controlled Digital Lending and US e-book state laws.
Do hurry and book your place today. Bookings are open for the full conference, or to attend only the (free) pre-conference workshop.
We are pleased to have received sponsorship for the event from CILIP Scotland, the Copyright Licensing Agency, the Educational Recording Agency and Learning on Screen which has enabled us to keep the registration price fixed from last year.