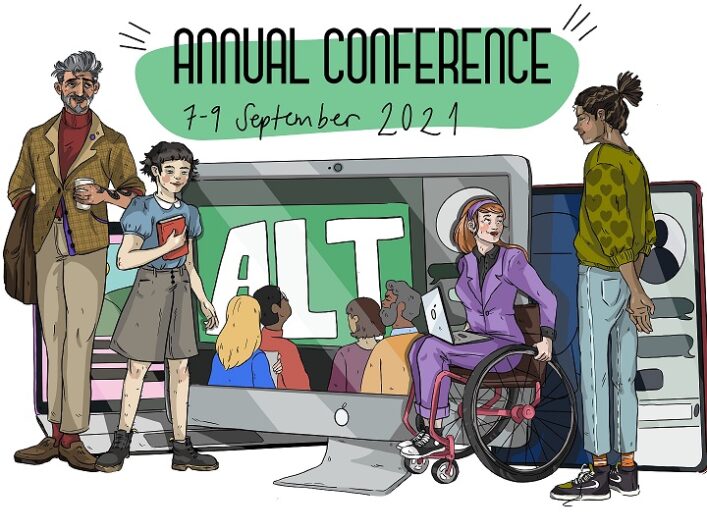 Registration is open for the 2021 ALT Annual Conference, 7-9 September. ALT Members receive a 35% discount.
This year's Annual Association for Learning Technology Conference provides an opportunity to bring us together to reflect on shared experiences of the ongoing pandemic.The long-term impact of the last year and the ongoing pandemic is hard to imagine. Fully online and blended learning have become everyone's business; all educators, learners, managers, senior leaders and policy writers have been drawn into the world of learning technology. The response from everyone has been phenomenal. Now it's time to discuss how it has challenged us? Where have we succeeded? What lessons have we learned? What might the future look like?
Through focusing on the following conference themes we explore this years theme:
Leadership in learning technology
Inclusive practice
Digital well-being
Digital and physical spaces
Wildcard
What does the registration fee include?
The full three day programme will feature speakers from across sectors bringing us all together to reflect on the shared experience from our different perspectives. How has the past year challenged us? Where have we succeeded? What lessons have we learned? What might the future look like?
Full registration includes:
Pre-conference orientation & networking sessions
Pre-conference workshops
Access to all live and asynchronous sessions over the three day programme
Social programme
Opt-in participant list for networking
Recordings and session materials post conference
Registration Fee's
ALT Member Rate: £129.00
Non Member Rate: £199.00
Conference Speaker Discounted Rate: £99.00
Scholarship Applications now open!
As part of ALT's commitment to openness we are offering scholarship places to remove barriers for our community to attend this event. Find out more.
What is ALTC?
The ALT Annual Conference is the UK's main conference for Learning Technologists and one of the largest conferences of its kind. It is held over three days every September, providing a valuable and practical forum for practitioners, researchers, managers and policy-makers from education and industry to solve problems, explore, reflect, influence and learn.This year's Annual Conference of the Association for Learning Technology will take place 7-9 September 2021. As the leading professional body for Learning Technology in the UK, ALT brings together professionals to disseminate research, share practice and develop policy since 1993.
You can find out more about our fabulous co-chairs and sponsor opportunities by visiting the conference website.