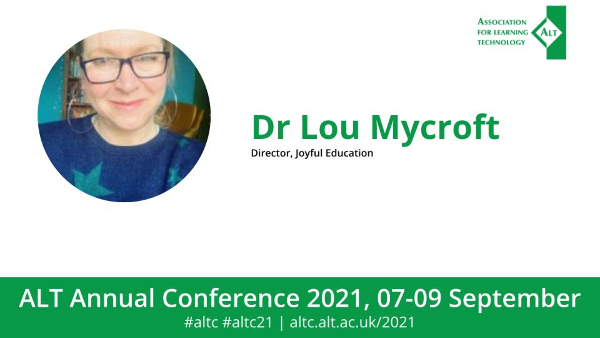 This year's Annual Conference is spread over three days and packed with discussion panels, research and practice sessions as well as video posters and inspiring keynotes. We are delighted to announce our final keynote speaker for ALT's Annual Conference 2021 – Dr Lou Mycroft.
Dr Lou Mycroft is a nomadic educator, writer and public speaker. It took three years' freelancing for the penny to drop that her entire career had been doing the same thing – building communities as a public health professional, community worker and teacher educator at The Northern College, where she spent nearly two decades. She now builds communities online, largely but not exclusively in further education.
Lou is co-founder of the #JoyFE movement and the #AdultConversations campaign for adult and community education. Her rhizomatic practices are changing the shape of professional development in FE. She writes regularly for TES FE and is a former columnist with the Society for Education and Training's InTuition magazine. She is also part of the editorial team which produces the #JoyFE digital magazine each month, a critically affirmative look at further, adult and community education practice. She is a TEDx speaker ('An Ethics of Joy') and winner of the EduFuturists Staff Wellbeing Champion Award 2020.
Explore our conference programme to learn more about keynotes, sessions and pre-conference activities, or meet our Conference Co-Chairs and explore our keynote speakers and featured speakers.
Register today to enjoy the UK's foremost gathering of Learning Technologists.