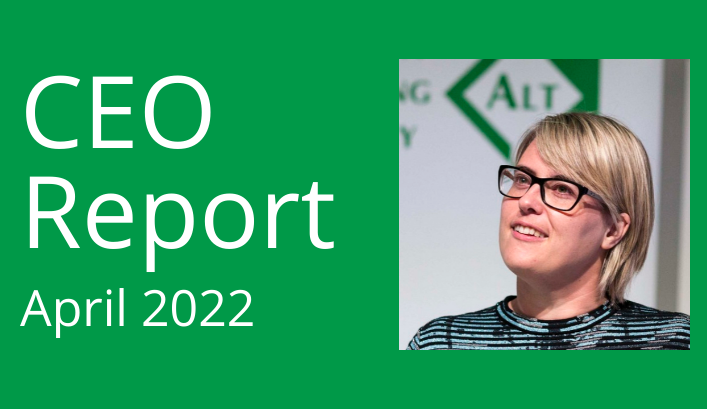 Dear Members
I am delighted to update Members personally on our progress as we move further into the year. We now provide access to expertise to a much wider community of digital practitioners. We work hard to champion professional recognition for a growing range of Learning Technology roles and we inform and support institution leaders engaging with digital education. Our strategy needs to reflect this growing remit.
Informed by the findings from our Annual Survey, our Board of Trustees and I have worked together to set strategic goals to move us firmly into this (post) pandemic landscape towards our Annual Conference and AGM in Manchester in early September.
One of the strategic priorities we have identified is to develop a new hybrid CPD and events programme, which will launch in autumn and set out a schedule of webinars, workshops and events running online and in person.
We are also looking to develop our professional recognition activities, including refreshing the ALT Awards and pathways to CMALT, details of which we hope to share with Members soon.
Things to look out for
Take part in OER22, ALT's Open Education Conference in the UK, as it returns for a hybrid edition from 26-28 April 2022. Chaired by the Global OER Graduate Network, the international programme focuses on open textbooks, open educational resources and open practice.
We recently launched a new collaboration to tell the stories from our community with ITN Productions: Digital Transformation. Building on the success of last year's programme, this year's film will explore the potential of digital technology in education and industry and its impact on approaches to learning.
News about this year's AGM and Trustee elections will be published alongside the Call for Nominations for Honorary Life Membership in May. Look out for information about how to stand for election and how to vote.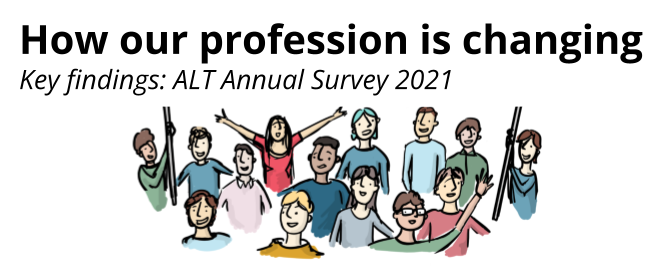 How our profession is changing
This second report from our Annual Survey explores one of the key questions we ask in the survey: how are institutions investing in Technology-Enhanced Learning? We continue to see an increase in investment of over 30% overall, although smaller than the previous year, when 45% of Members reported an increase in their budgets. From 2020 to 2021, investment in permanent posts has increased from 32% to 54%, and for fixed term posts from 34% to 50%, emphasizing the continued and growing demands for Learning Technology professionals in the long term.
ALT's Annual Survey has run each year since 2014, with a number of the core questions remaining unchanged. We think it provides a unique insight into how learning technology is used across sectors as well as identifying emerging trends in current and future practice.
You can also read more about the report from ALT's Chair, Helen O'Sullivan, and myself in this #altc blog post.
Launching the AmplifyFE Community Space in partnership with Ufi VocTech Trust
AmplifyFE is a partnership project which works to connect and amplify communities of practice for digital learning, teaching and assessment. The AmplifyFE Community Space works across the whole Further Education and Training sector in its widest terms engaging with vocational educators and those who support them.
The aim of this space is to:
Provide a place for vocational educators to share and learn from each other, increasing their access to learning technology expertise, digital pedagogy and professional development opportunities
Champion the use of accessible, inclusive learning technology to help those adult learners most impacted by the digital divide so that more people in the UK have improved access to vocational skills
Engage with FE groups and communities of practice and researchers in vocational learning to share best practice
Work across the whole Further Education and Training sector in its widest terms engaging with vocational educators and those who support them in FE Colleges, Adult and Community Learning (ACL), work-based and independent learning providers, prison learning, ESOL communities, 'HE in FE' providers, the whole, diverse sector.
To amplify the voice of professionals in strategic developments across the sector, led by organisations including ALT and Ufi.
Find out more via the AmplifyFE website.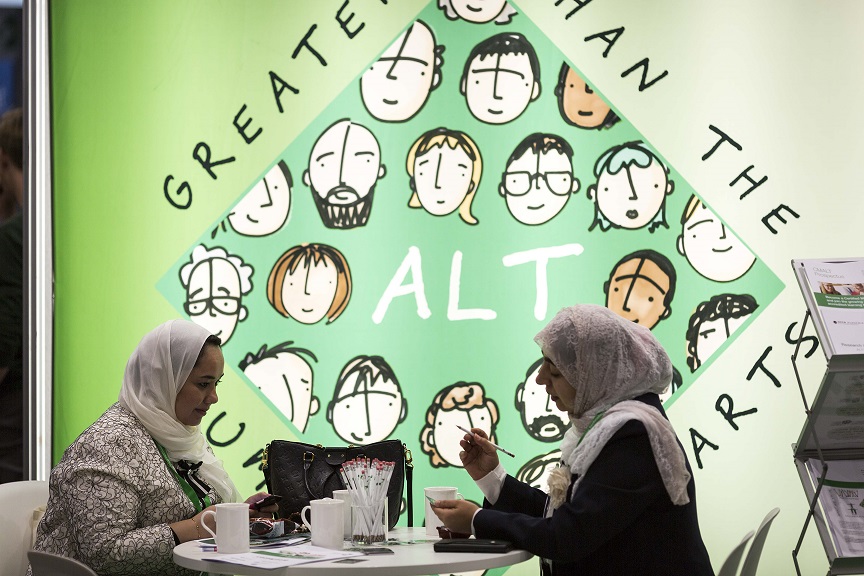 Preparing for our Annual Conference and AGM 2022
For the return of the Annual Conference to Manchester, 6-8 September 2022, we will bring together different critical perspectives from across our community that will examine the challenges ahead and question the shape of things to come. We are putting our values into practice and Members at the heart of the conference, so in this spirit the event will be chaired collaboratively by the Trustees of ALT.
Join the Conference Committee
We are looking for Members who are keen to get involved in shaping the conference, to help promote the event, review proposals for the programme and share their experiences. Whether your interest is in research, practice or policy, we welcome your contribution.
We are keeping the invitation to join this conference committee open until 4 May 2022. Sign up via our online form to get involved.
Ethical Framework for Learning Technology
We have been sharing the framework with the sector at a number of conferences and events recently, including the THE Digital Universities Week and Ahead by Bett. ALT's Framework for Ethical Learning Technology (FELT) is designed to support individuals, organisations and industry in the ethical use of learning technology across sectors. The following resources, including the FELT Reflective Self-Assessment are available to Members:
Another great session at #THEdigiweekuk, this time with @daveowhite, @MarenDeepwell, @jatenas and @osullihelen looking at https://t.co/IKyZSA53ck; @A_L_T's Framework for Ethical Learning Technologies (FELT). Hadn't been aware of this, seems a great way to assess what we're using! pic.twitter.com/YponqKhKWY

— Chris Trace (@chrisEtrace) March 16, 2022