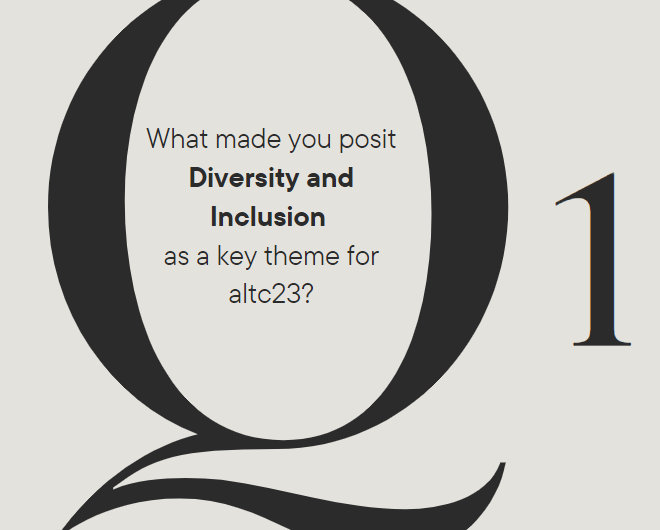 by Dr Teeroumanee Nadan, Annual Conference 2023 Committee Member and Santanu Vasant, Co-Chair Annual Conference 2023
This blog was originally posted on 15 June 2023 on Dr Teeroumanee Nadan's blog teeroumaneenadan.com
In the recent years that I have got the time and opportunity to be more engaged in the Association for Learning Technology (ALT) conferences, my line of work has been categorised as "wildcard" or sometimes thrusted under a main theme to increase the odds of acceptance. This year, it has been with much relief that I had found an acceptance to the line of work around diversity and inclusion as an overarching theme. I recall a conversation with Santanu Vasant, Co-Chair of #altc23 where I had expressed my reluctance to even consider being part of the committee. And now voilà! Representation of Chairs matters; I am not only an active committee member, but also an active accessibility sub-committee member for #altc23

So where do we start? From the beginning of course! This blog is a conversation between me and Santanu Vasant around the Diversity & Inclusion theme of #altc23.
I present here some basic data to be used as benchmark for ALT's next big birthday and Santanu writes about some first-time-ever initiatives, like the accessibility sub-committee (check out the recent blog from the accessibility sub-committee).
Happy reading!
ALT23 submission data
For #altc23, four main themes were proposed, with rounded-up percentages of the total submissions in brackets:
Leading People in a time of complexity (33%)
Diversity and Inclusion (17%)
Sustainability and Social Justice (4%)
Emerging technologies and behaviours (29%)
Wildcard (16%)
With Themes two and three together, that's 22% of submissions around equity, quite encouraging for a first time. At the time of writing this blog, acceptance data was not available, although the first stage of reviewing resulted in a total of 59% of acceptance. I am keen to have the final acceptance figures on these themes.
Diversity & Inclusion conversation with Santanu Vasant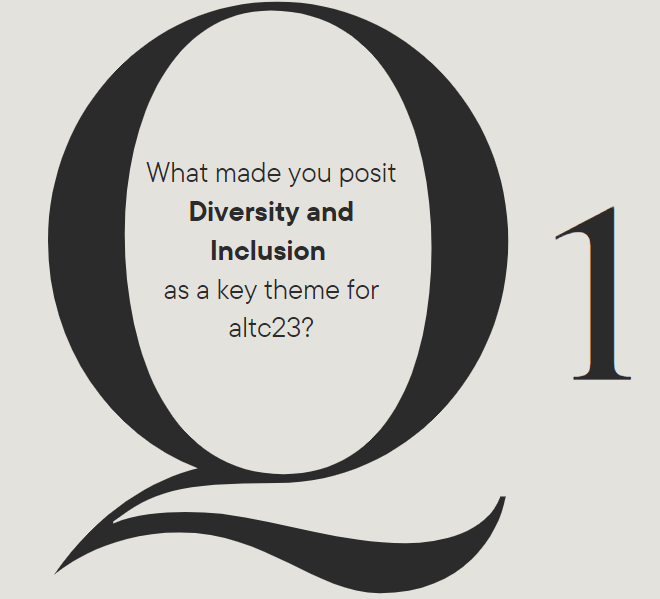 1. What made you posit Diversity and Inclusion as a key theme for altc23
Diversity & Inclusion is not a choice for me and nor for Lawrie my Co-Chair for ALT conference 2023; we both wanted to include it in the mainstream of the agenda, not for it to be a fringe event or a spice to garnish on the side. Lawrie's background of setting up and running Jisc's TechDis service in 2001 coupled with my own experience of championing Diversity & Inclusion for over nearly 20 years made Diversity & Inclusion an obvious theme to incorporate as a key theme for #altc – we were in the right place at the right time. While finalising the Co-Chairing 2023 conference proposal, aligned with ALT's 30th anniversary, we wondered what has actually changed in the sector for Learning Technologists and Educational Developers – what do the numbers say about Diversity & Inclusion for 'third space professionals'?
Technology has always had great potential, but as we saw during the pandemic, the inequalities of our society were laid bare for all to see; when technology was the only medium of being, the most precarious and disadvantaged missed out, despite efforts made. The other big challenge is the bias in all new forms of technology to replicate the existing world, which further maintains the status quo as this suits some people. On both these challenges, a community that supports everyone and gives a voice and champions the underrepresented is a healthy one.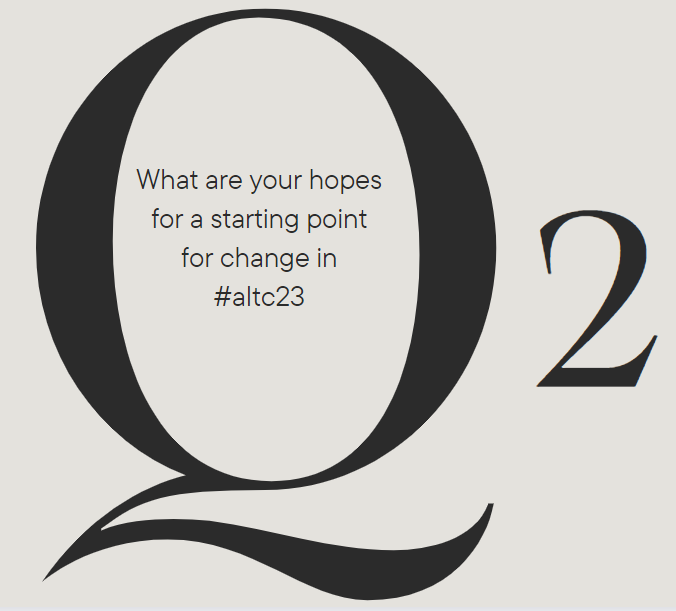 2. What are your hopes for a starting point for change in #altc23?
There was one thing that I knew I wanted to do, to lead and be part of change. Lawrie and I have already started to make some changes as Co-Chairs, with having a diverse but also relatively smaller conference committee. This ensures a greater a sense of belonging and ownership for committee activities, and ultimately satisfaction and recognition. This has led to suggestions from the committee for greater accessibility, social events with no alcohol and better panel award representation. This is not job done, it is only the start. After the conference, we hope to report on Diversity & Inclusion data for submission, acceptance, registration and attendance to ALTC 2023. Representation matters, only then will new ideas and new ways of thinking, doing and being emerge and sustain the Association for the next 20 years. This was why we put our proposal to Co-Chair and we could not be more glad to see ALT welcoming change. Having Diversity & Inclusion as a key theme for ALT's 30th birthday conference is critical, and we ask you to reflect on "What type of Association for Learning Technology do you want to belong to?"
My hope for the future
Now that ALT has turned the big 30 and is now a full-grown adult on its own, I expect to see more proactive engagement around diversity and inclusivity and fewer mistakes on "trying out".
I will wear my colourful hat as Chair of Antiracism and Learning Technology Special Interest Group (ARLT SIG) for a brief moment to say that I want, yes I want, to see more happening on the front of Diversity & Inclusion in ALT events, from the registration, frequency, support and logistics end to the attendance, participant's engagement and retention end. In an event organised last year under ARLT SIG, Lawrie Phipps, the other #altc23 Chair shared a comment from a graduate while attending an ALT conference, which inspired me to play an active role in engaging and supporting people of colour at junior roles in ARLT SIG and wider ALT activities. Representation matters!
Sadly, one positive change I would have liked to see this year for #altc23 is for ethnicity data for speakers and attendees. While this is on ALT's roadmap for the next year, is the 30-year-old association too slow in responding to the need for change?
I end on the note that I hope on ALT's golden anniversary in 2043, we would have transcended the rudimentary conversations around Diversity & Inclusion, and ALT would be a thriving organisation on digital equity conversations. I wish all speakers and participants to #altc23 to foster Diversity & Inclusion during the event and see you in September to celebrate the future of ALT.
👉 Santanu and I are both appreciative that we are changing the status quo. We hope you have enjoyed this blog and if you have more ideas for us on improving Diversity & Inclusion in digital tech, we are all ears. And of course, none of this would have been possible without the support of Lawrie Phipps, the other Co-Chair of ALT Conference 2023.
👉I recognise the burden that people like Santanu carry in stepping up for representation and opening the doors for others.
Acknowledgement
Lawrie Phipps for his continuous support of Diversity & Inclusion
ALT staff for providing #altc23 submission data
References & Further Reading
Phipps, L., Sutherland, A., & Seale, J. (Eds.). (2002). Access all areas: disability, technology and learning. York, UK: TechDis with the Association for Learning Technology.
Whitchurch, C. (2013). Reconstructing Identities in Higher Education: The Rise of Third Space Professionals. New York: Routledge.