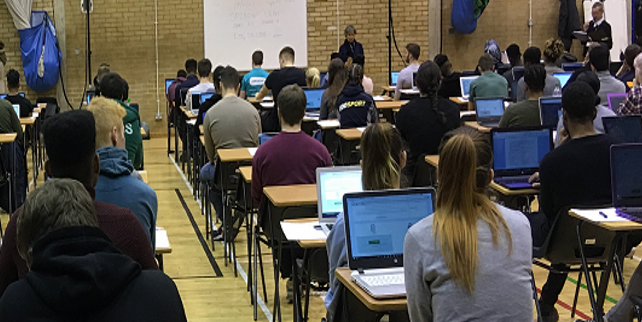 Since 2015 Brunel University London has been running a pilot programme testing the feasibility of digital written exams.  The approach we have taken is a "Bring your own device" (BYOD) model where students bring their own laptops etc to the examination venue.  We are fortunate to have received HEFCE Catalyst funding to help support our project and share our experiences with the UK sector.
In the first year of the pilot we identified a potential technology supplier WISEflow and ran one digital exam to test the system.  This was an interesting exercise where we discovered what support the university would need to put in place to make digital exams a success.  Following on from this in winter 2016/17 we ran a further four digital exams, giving us a chance to refine our procedures. In our most recent exam period of May 2017 we ran nearly all of the exams for the department of Computer Science digitally, a total of 18 exams with over 1500 submissions.  Our plan is to continue to scale up until we reach the full capacity of our current venue (250 seats x 30 exam sessions), and to investigate what would be required to scale up into our larger venue (1000+ seats).
IT and Estates Support
There were a number of infrastructure issues we needed to overcome to transform our Sports Hall into a venue capable of supporting digital exams.  All solutions needed to be temporary so that the venue could return to its original use for the rest of the year.
Power
Relying on students own devices means having to cater for a variety of makes/models and ages/conditions of laptops being brought in on the day.   New laptops are currently being advertised with batteries that can hold a charge for up to 17 hours[1] but battery life deteriorates over time and students might not bring the laptop fully charged. Based on reports from Norway and Denmark (where digital examination is used extensively) we originally catered for additional power on 20% of the desks.  In practice we noticed on 3hr exams we were trending closer to 30% of students needing to plug-in their laptops.  To accommodate this, our Estates team added more temporary power.  We suspect that the percentage of students needing power may reduce as new cohorts arrive with newer laptops, but we will continue to cater to this ratio for now.
WiFi
WiFi connection is needed as the exam system is hosted in the cloud. The laptops need to be connected throughout the exams as the WISEflow system frequently saves exam progress. Our Sports Hall usually hosts basketball games etc. so on an average day it does not require much WiFi capacity. To ensure a good connection for 200+ students our Information Services team installed 2 temporary WiFi boosters giving capacity for over 600 internet connections. Over capacity is required to allow for devices automatically connecting as people pass by the venue and for additional connections in the room e.g. invigilators and devices in bags.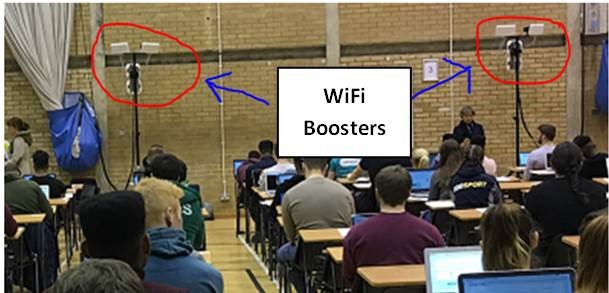 Preparing Students
It is essential to provide students with opportunities to try the exam system and pre-install the lock-down browser used for making the exam secure.  We provided a number of opportunities for this including: visiting lectures for briefings, drop-in sessions and an online resource within our VLE. What we have discovered is that prepping students before their exams increases their confidence and speeds up the process of starting the exam on the day.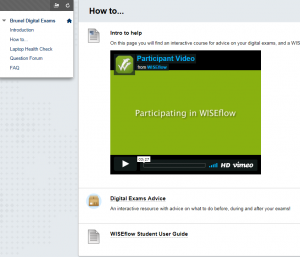 Examinations and Timetabling
Successful implementation of digital exams requires effort from across the university. Our examinations team were included from the early stages of the project to ensure the correct venues were booked for the main cohort and for students with additional needs.  They also assisted with training invigilators on new procedures.  As we increase the number of digital exams we will work closely with the examinations team to create more automation of the system.
Technical support during exams
Our Information Services team were on hand to support the use of university owned laptops (for students without devices) and were on-call in case of any WiFi issues.  We also used a team of graduate students hired as assistant learning technologists.  This team were responsible for guiding students through the exam start-up process and troubleshooting any issues along the way.  During the exam they helped students to move desks if their battery was running low, answered any technical queries and helped monitor the hand-in process at the end.
Future plans
We have now chosen WISEflow as the university's digital assessment platform.  We will be carrying out a staged implementation over the next three years, after which time we expect most of our coursework and exams will be handled through the WISEflow system with complete end-to-end digitisation of our assessment processes.
Additional information
On March 17th 2017 we hosted a sector wide digital examinations event where colleagues from 20 different HE institutions came together to hear about our experiences and discuss the opportunities and challenges digital exams pose.  Here are some outputs from the day:
Recordings
Intro to the day by Professor Mariann Rand-Weaver – Pro-Vice Chancellor (Quality Affairs):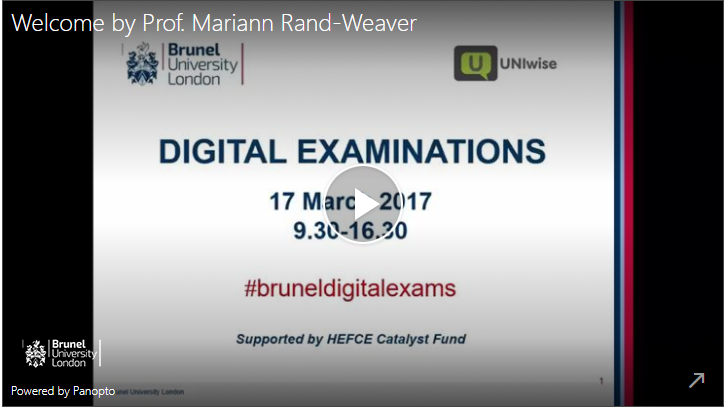 Keynote by Rasmus Blok – Executive Director UNIwise (Download PowerPoint slides here):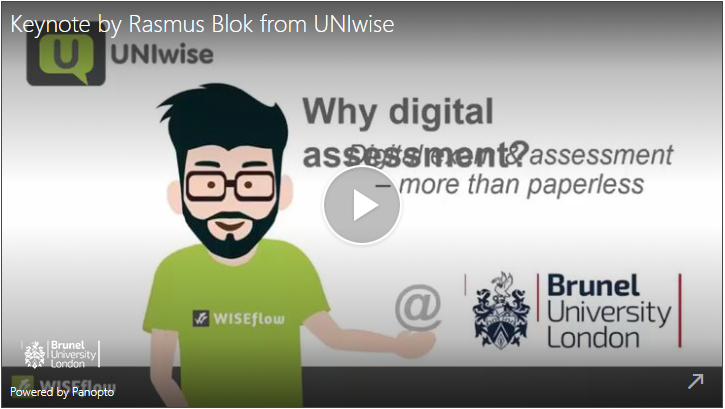 Keynote by Dr Simon Kent – Director of Teaching and Learning Brunel dept. of Computer Science: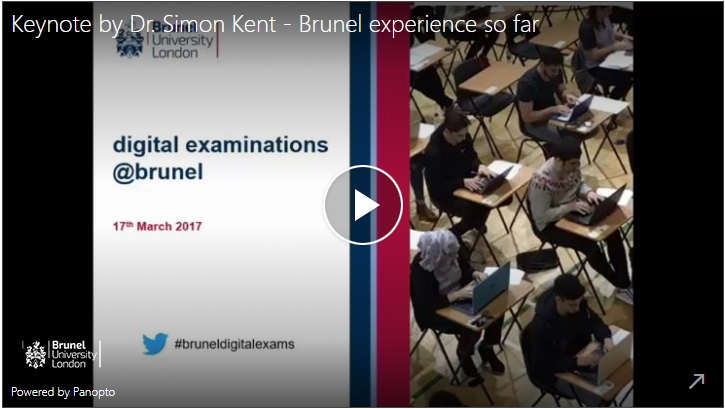 To keep up to date with our progress take a look at our pages on the Brunel University website.  http://www.brunel.ac.uk/about/education-innovation
 Authors: Alice La Rooy, Head of Digital Education, Brunel University London, @Alice_LaRooy, alice.larooy@brunel.ac.uk; Prof. Mariann Rand-Weaver, Pro-Vice Chancellor (Quality Affairs), Brunel University London; Dr. Simon Kent, Director of Teaching and Learning (Dept. of Computer Science), Brunel University London; Claudia Cox, Digital Examinations Officer, Brunel University London.
If you enjoyed reading this article we invite you to join the Association for Learning Technology (ALT) as an individual member, and to encourage your own organisation to join ALT as an organisational or sponsoring member
[1] Source: https://www.laptopmag.com/articles/all-day-strong-longest-lasting-notebooks